A longshoreman, also sometimes called a harbor worker or a dock laborer, is primarily responsible for loading and unloading cargo on a docked ship. Longshoremen typically work in teams to systematically move and sort shipping containers, oil barrels, and other cargo. The job involves both the operation of machinery and manual labor like lifting and pushing. Some knowledge of logistics is also usually an asset.
Basic Duties
Sea-based cargo is an important part of most countries' economies. Some things can be shipped by air, but for heavier objects like cars and machine parts, shipment by sea is often much more practical. Most of the time, though, cargo ships do not staff enough people on board to completely load or unload the holds at each port of call. For this they rely on teams of longshoremen.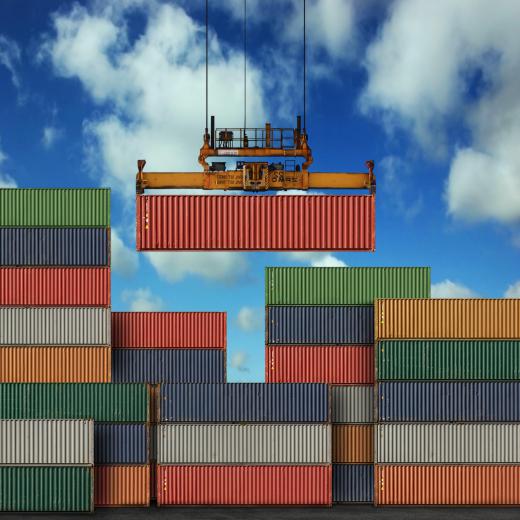 One of the most important duties of any longshoreman is the operation of cranes, forklifts, and other heavy machinery that can be used to move cargo either onto or off of a ship. Workers must be able to take orders from the dock manager or boss, often called a "stevedore." A stevedore's instructions often pertain to how cargo should be ordered, and where it should be placed and processed.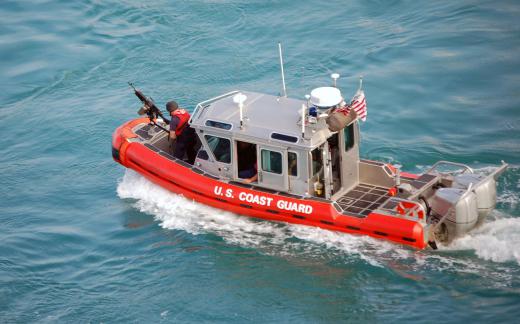 Longshoremen are also expected to secure containers once loaded. This usually involves tying them down or "thrashing" them once they are loaded onto ships, then untying them when it is time to unload. Shoveling work is commonly required as well, particularly when it comes to bulk cargo like coal, grains, and gravel. Depending on the specifics of a given job, a longshoreman could spend an entire day shoveling.
Typical Hours
Most of the time, a longeshoreman's hours are determined by shipping or dock schedules. International sea freight is a round-the-clock business, which means that longshoremen may be needed at any time of the day or night. There is usually plenty of notice when it comes to required hours, but predictability is not usually associated with the job.
Differences Between Casual and Permanent Workers
In most markets, there are two categories of longshoremen — those who are members of permanent loading teams, and those who are hired as-needed for specific projects. The latter are usually referred to as "casual workers," and enjoy little to no job security. They usually apply in person when ships arrive in hopes of finding work. If there is a need for more hands, they are often hired on.
Many longshoremen approach casual work as a door to a more permanent position, though the waiting can be long. It is not uncommon for a longshoreman to work for five years or more in a casual capacity before he or she is picked up for a contracted job.
Those who are contracted by specific stevedores or loading companies have much greater job stability, and are usually salaried. They may also receive benefits like health insurance and paid vacations or sick days. In the United States, most permanent workers are members of longshoremen's unions, which protect workers' rights and job security.
Pay Expectations
Due in part to how dangerous and physically demanding the job of a longshoreman is, the pay is usually somewhat high. Permanent workers almost always make more than casual hires, but much depends on seniority. In most cases, longshoremen of all ranks can expect to make as much if not more than they would in an entry-level office job.
Training and Experience Required
The most important asset for any longshoreman is the ability to do manual labor and the flexibility to work long and irregular hours. Fluency in the language of supervisors is usually required, but there are rarely any specific training or education standards. Some docks set age minimums, usually 16 or 18. Within these parameters, anyone who is physically able is usually eligible to work.
What Is a Longshoreman?
Longshoremen load and unload ship cargo in commercial harbors and ports, working alongside trucking companies and warehouses. Also called dock workers or dockers, longshoremen work outside in various weather conditions while filling a vital role in the shipping and receiving industry. Usual shifts happen during the day, but their roles may require night, weekend and holiday shifts.
Longshoremen work together to secure ships to the dock. Workers must follow industry regulations related to working from heights, using heavy machinery and lifting heavy cargo to keep themselves and their coworkers safe.
Much like construction, working as a longshoreman involves various hazards and working around dangerous chemicals. The job environment often involves high vehicle traffic, including powered industrial equipment, semi-trucks and passenger vehicles. The job's also physically intense, requiring workers to do a lot of heavy lifting and repetitive motions. Workers must take care that they do not injure themselves while using equipment or suffer the effects of wear and tear on their bodies.
The job does not involve extensive requirements to qualify for an opening. Applicants usually need a high school diploma or its equivalent, but some positions may require relevant work experience operating heavy equipment. Applicants may need a Transportation Worker ID Card, which certifies that a person can work on a dock.
West Coast job candidates may also want to become ILWU members. Those interested in joining the union may need to wait several months or years for open enrollment. Reasons to consider joining a union include getting the first pick of work assignments, setting a solid work schedule and better guaranteeing hours. Union contracts include specific work shifts, such as working a standard Monday through Friday daytime schedule. Other union contracts may break shifts down by day, afternoon and night. Longshoremen who do not have union membership work as "casual workers."
How Much Do Longshoreman Make?
As of 2021, a longshoreman's hourly wage ranges between $19 and $47, with an average base hourly rate of $28.83. Bonuses range from $497 to $20k. Some companies offer profit sharing ranging between $2k and $15k. Longshoremen with more experience and more contract years often receive higher pay.
Other than experience, geographic location also affects salary. Some of the most well-paying cities for longshoremen include Boston, MA, San Mateo, CA, and Santa Monica, CA. It's a good idea for workers to explore a region's job market before either moving or applying for open positions. While a region may pay well, it may not have a stable job market, which could make it difficult to find open positions. It's also a good idea to compare salary to a city's cost of living while deciding where to apply. A region that pays well could have a high cost of living.
Longshoremen who are members of the International Longshoreman's Association receive a pay increase after two years of work experience. They qualify for even higher pay after four years of experience and another pay increase after gaining six years of experience.
According to the U.S. Bureau of Labor Statistics, longshoremen and other hand laborers and material movers should expect a 7% job growth between 2020 and 2030. Over the decade, the industry's projected to have roughly 941,100 job openings.
What Does a Longshoreman Do?
During a typical workday, longshoremen operate forklifts, cranes and other complex loading equipment. Some workers use machines to maneuver large stackable boxes cargo containers, but that depends on the company and its responsibilities. Workers often check specific containers and check the shipment for damage and to ensure it's complete.
After cargo arrives by rail or truck, longshoremen unload and organize containers before transferring them onto a ship. The job involves keeping detailed cargo records. The cargo containers ship to their destination port, where other longshoremen unload them and put them onto trucks.
Depending on the position and company, longshoremen may work in proximity with a cargo ship's crew. Their overlapping job duties may involve working on the ship and loading and unloading shipments from the dock. A worker's daily duties could change according to the company's most current needs.
Because they may unload hundreds or thousands of containers in a set period, longshoremen must possess physical strength and stamina. The job comes with high rates of illness, injury and death when compared with other job roles. For that reason, many longshoremen join the International Longshore and Warehouse Union. Union membership protects a longshoreman's rights while employed and after retiring. Joining the ILWU also makes traveling less expensive.
AS FEATURED ON:
AS FEATURED ON:
By: Daniel Ernst

A longshoreman works to load and unload cargo at shipping docks.

By: Binkski

Longshoremen may be tasked with using cranes to move intermodal containers.

By: Wimbledon

Longshoremen must occasionally interact with U.S. Coast Guard harbor patrols to ensure that docking areas are secure.

By: gwen0

Ships may arrive during the day or night, so a longshoreman may be on call 24-hours a day.

By: Tentacle

Cargo ships rarely carry enough people to load and unload shipments at each port, requiring longshoremen.

By: potowizard

Longshoremen need logistical knowledge.