What does a Maintenance Person do?
A maintenance person is a versatile professional who ensures the smooth operation of a facility. They perform a variety of tasks, from fixing electrical issues to plumbing repairs, ensuring safety and comfort. But what skills are essential for a successful maintenance person?
A job as a maintenance person includes doing general repair work on equipment or property. This may involve work in commercial buildings or personal property. The person may work as an independent contractor or as part of a maintenance team.
The multi-faceted skills of a maintenance worker typically involve carpentry and electrical work, to name a few. The worker is generally skilled in woodworking tasks, such as measuring and fitting cabinets. He will also repair doors, cabinets, and damaged walls. Changing locks on doors or fixing a door hinge that is not working are some of the more simple tasks for someone with this job.
The electrical aspect of a maintenance person's duties include wiring and electrical circuit troubleshooting. He will typically be able to correct electrical shortages or repair circuit breakers, and may be able to install new circuit breakers and cables as well. The person will install electrical outlets and face plates in apartments or other facilities, as well as repairing lighting fixtures.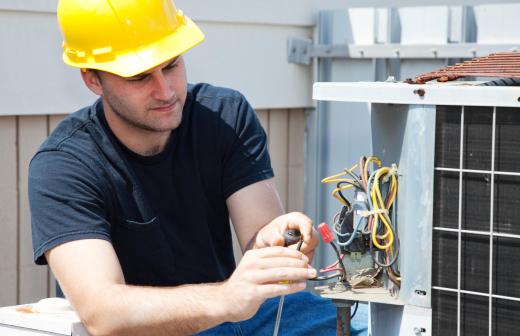 In some cases, this job description may spell out duties such as relocating furniture or other heavy items. Some maintenance workers also do cleaning tasks as well. In facilities such as churches, schools, or businesses, he may remove trash from the premises or be involved in washing and disinfecting materials.
For general repair work in apartment and townhomes, a maintenance person may need to install shower stalls and shower rods, or do minor plumbing tasks, so many people in this job have good plumbing skills. Repairing leaky faucets, stopping overflowing toilets, or changing defective washers in sinks may also be some of the duties that he attends to. Repairing or installing hot water heaters and changing air conditioner filters are also typically part of the job.
In some aspects of maintenance work, seasonal and annual care of property grounds may be part of the duties that are assigned. This may include yard work, such as lawn mowing and fertilization. The worker may also care for shrubbery and remove fallen tree limbs.
There are various handyman jobs a maintenance worker attends to, some of which do not fall into any particular classification. Maintenance work typically involves skills in window placement and installation, as well as measuring and installing fixture parts. Door installation or repairs are often his responsibility too.
A maintenance person may also do simpler tasks, like painting small areas or repairing damaged or cracked walls. He may be required to sand drywall as well. Miscellaneous tasks may also include resealing or re-caulking a bathtub using a utility knife, silicone caulk, and a caulking gun.
AS FEATURED ON:
AS FEATURED ON:
By: mikkolem

Maintenance workers must keep electrical systems running properly.

By: Lisa F. Young

A maintenance man making repairs to an air conditioning unit.

A maintenance person re-caulking a bathtub.

By: yellowj

A maintenance person applies a skim coating to a wall after repairing a crack.

By: Elenathewise

A maintenance person should be able to fix a leaky faucet or perform other basic repairs.

By: Moultipix

A maintenance person may be responsible for fixing pools.

By: J and S Photography

Simple maintenance tasks can include using a utility knife.

By: stokkete

Maintenance workers usually have carpentry skills.

By: Karen Roach

A maintenance person typically has their own tools.