What Does a Medical Examiner Assistant Do?
A medical examiner assistant is a medical professional who assists pathologists and coroners in performing autopsies, uncovering causes of death, and documenting injuries. As the job title suggests, much of the assistant's role is support-based. He or she assists other doctors and medical professionals in conducting forensic investigations. The job entails quite a bit of scientific and medical knowledge, as well as the ability to quickly draw accurate conclusions based on often scant evidence.
The specific medical examiner assistant job description varies depending on the employer and the job context. Most work for cities, municipalities, or other government entities, investigating homicides and other suspicious deaths in conjunction with police. Others work for private investigation firms or insurance companies.
Medical examiner assistants can also be called pathology assistants or coroner assistants. They are medical doctors or medical students who work directly under a forensic doctor, and generally play a hands-on role in all aspects of the medico-legal investigation. This often includes dissections, autopsy analysis, and wound and scar inspection. In most cases, these doctors perform complete post-death medical exams, as well.
No matter where a medical examiner assistant works, there are three core job responsibilities that are bound to come into play on a daily basis: forensics, pathology, and investigative medicine. Assistants work alongside lead pathologists to conduct forensic examinations. Most of the time, these examinations take place as part of a crime investigation. Many pathologists and their assistants work on an on-call basis, often traveling directly to the scene of a crime in order to view evidence directly before removing bodies and bodily remains to a laboratory for autopsy and further testing.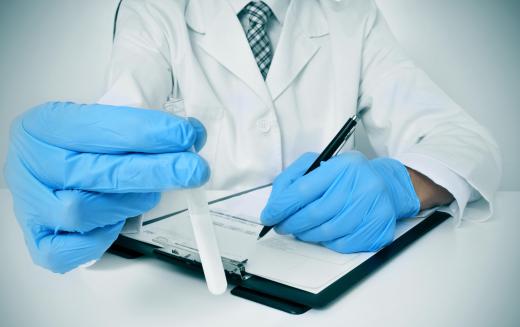 An assistant is often responsible for writing up research and preparing reports for police. In many cases, these reports will be used in the course of legal trial. Assistants must usually receive special training in evidence collection and reporting to comply with governing court rules.
Different jurisdictions have different requirements for what it takes to become a medical examiner assistant, but a medical degree — or at least significant work towards completion of such a degree — is almost always essential. Autopsies, criminal assault investigations, and other death-time bodily analysis must usually be undertaken only by persons qualified to practice medicine. Pathologists and coroners are almost always medical doctors, and, in most places, their assistants must be, too. Legal knowledge and experience with law enforcement is usually also required.
Many doctors who are interested in specializing in forensics take positions as medical examiner assistants to get a feel for what the job of a full-time forensic specialist would entail. In some places, medical students or recent graduates can intern under a pathologist, while, in other places, assistants must be fully-qualified doctors, preferably with specialty work in pathology already completed. Assistants are often promoted to lead or chief medical examiner, and the experience also parlays well into a host of other investigative jobs, whether with hospitals, the police, or private investigative firms.
AS FEATURED ON:
AS FEATURED ON:
By: aijohn784

Medical examiners and their assistants often respond directly to crime scenes.

By: Tyler Olson

A medical examiner assistant may be a medical school student working directly under a forensic doctor.

By: nito

Medical examiner assistants sometimes write up results of testing and research.

By: nandyphotos

A medical examiner assistant may examine bodily remains in a laboratory setting.

By: forestpath

A medical examiner assistant may help with conducting autopsies.

By: Edyta Pawlowska

An aspiring medical examiner assistant may start her career as a general practitioner.

By: antiksu

A medical examiner's findings may be particularly beneficial in cases involving a sudden death.