What does a Medical Office Administrator do?
A medical office administrator, also sometimes called a medical secretary or office assistant, is primarily responsible for answering phones, scheduling appointments, and managing patient files in a health clinic or other medical office. These professionals often work directly for physicians and nurses, but may also employed at hospitals, urgent care centers, and assisted living or hospice facilities. The work is usually similar no matter the setting, and tends to center around secretarial and basic paperwork management tasks.
Direct Patient Interaction
In most medical offices, the administrator is the first person patients see when they come in. He or she typically sits at a desk near the front entrance, and is usually in charge of checking people in, answering questions, and making sure patients feel at ease. Depending on the office, this person may also be in charge of managing the waiting room, including keeping it tidy and making sure that there are distractions like reading materials, toys, or appropriate television shows available.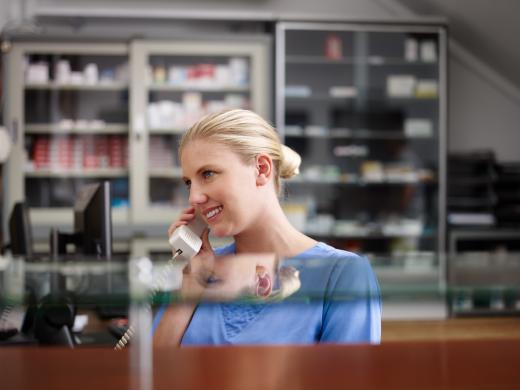 Managing paperwork that patients need to fill out is also part of the job in most places. Administrators typically collect and record insurance information and medical history forms and disclosures, and usually also ask for any co-payments or time-of-service bills that are due.
Answering Calls and Managing Calendars
Manning the phones is another really important part of this professional's work. People who call medical offices usually talk to an administrator, at least at first, particularly for things like getting directions to the office or scheduling an appointment. In the case of a medical emergency, the desk worker will usually forward the call on to a physician or nurse, else take a very detailed message and pass along the most important information to the medical expert "on call."
The job also usually requires a lot of savvy when it comes to scheduling and organizing time. Administrators typically create and manage calendars for appointments, patient consults, and important meetings that they must keep constantly updated. When doctors, nurses, or other medical professionals are running behind schedule or have to miss days, it is usually the administrator's job to adjust things. Calling patients, rescheduling events, and shifting appointments around at a moment's notice may be a core part of the work.
Clerical Work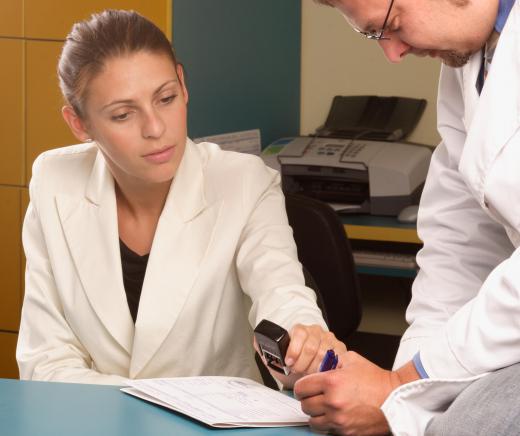 The medical world is one that is heavily records-dependent, and one of the medical office administrator's biggest jobs is to keep paperwork and written files in order. This typically starts with patient records. The administrator must usually devise a system for keeping files updated and accessible, which often involves computing and electronic record-keeping. Most modern offices use a combination of digital and paper-based files, and organizing and assimilating the two can be a bigger task than it seems.
Office administrators may also be responsible for managing correspondence and handling things like utility bills and payroll management. A lot of this depends on the size of the office at issue — major operations like hospitals often have specific billing departments that will handle financial matters, but in smaller practices these things often fall to the person who sits at the front desk. In some places this person might also handle insurance paperwork, including issuing bills to patients and managing third-party payments.
Assisting Physicians
Depending on the office, an administrator may also be required to help the medical staff with things like records dictation, transcription, and exam room prep. Ordering lab tests may also be required. In some cases healthcare professionals treat their office staff as personal assistants, asking them to do things like arranging personal transportation, making dinner reservations, or collecting dry cleaning, though this is by no means a universal part of the job description.
Different Work Settings
A medical office administrator can work in many different places. Individual practices are some of the most common, but the job can be found nearly anywhere that patients and healthcare workers interact — hospitals, nursing homes, and stand-alone clinics are just a few examples. It is sometimes also possible to find these sorts of administrators working from home, often as "virtual assistants." Physicians and others who operate small practices may not have the overhead to hire staff to arrange appointments and manage filings full-time, but getting remote help a few hours a week is often useful. Work-at-home arrangements usually require access to the Internet and a dedicated phone line for handling medical calls, but the specifics can vary a lot depending on the circumstances.
Training and Educational Requirements
Employers largely set their own requirements when it comes to hiring medical office administrators, but a high school diploma or equivalent is almost always essential. Experience doing clerical work is also usually an asset, and knowledge of medical billing and coding can be helpful as well. Some community colleges and vocational schools offer courses designed especially to train people to work in medical offices. Though these sorts of programs in no way guarantee work as a medical office administrator, they can make it easier for applicants to get noticed, particularly where competitive jobs or desirable employers are concerned.
AS FEATURED ON:
AS FEATURED ON:
By: contrastwerkstatt

A medical secretary performs office management tasks.

By: diego cervo

A medical office administrator is responsibe for answering phones and handling patient files in a medical office.

By: Gennadiy Poznyakov

One of the medical office administrator's biggest jobs is to keep paperwork and written files in order.

By: endostock

Medical office administrators often work closely with doctors to ensure all paperwork is completed.

By: AntonioDiaz

Medical office administrators may work with electronic patient records filed by doctors on a tablet or computer.