What does a Medical Terminologist do?
A Medical Terminologist deciphers and translates complex medical jargon into understandable language. They bridge the gap between healthcare professionals and patients, ensuring clear communication. They're vital in healthcare, making medical information accessible to all. But how do they master such a vast array of terms?
The position of a medical terminologist combines customer service and secretarial skills with knowledge of medical terminology and procedures. Most medical terminologists will find work in a medical office or hospital, but some positions are being moved to the home office as well. The medical terminology which is required for this position often refers to terms for the body and its functions, illnesses or ailments and common drugs. These terms are used almost every day in the work the medical terminologist does.
Basic duties for a medical terminologist will typically include greeting patients, administering or filing paperwork and answering or making phone calls. Organizational and multitasking skills are typically a must. Some medical practices even give the duty of updating delinquent patient files and preliminary collection calls to their medical terminologists.
Specific duties of a medical terminologist will vary greatly from one medical facility to another. Typically, the terminologist will be the first point of contact for the patient and insurance companies. He or she may schedule appointments for patients, gather medical histories and answer basic questions about procedures or facility specifics. The medical terminologist will generally file and follow up with insurance claims for his or her office, so a firm grasp of insurance procedures and medical terms is a necessity.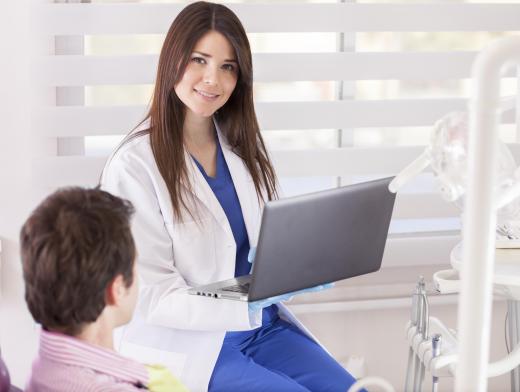 Along with typical duties such as transcription, data entry and document handling, a medical terminologist may also be called on to do basic research and compile reports. The terminologist also maintains inventory of the front office and medical office supplies. Operating office equipment such as a computer, fax machine and multi-line telephone are typical daily tasks, so it is vital that the potential terminologist be proficient with this equipment.
Many times, a medical terminologist will work 35 to 40 hours per week during the typical hours of a doctor's office. Those who work in hospitals may have an evening or even a graveyard shift with light duties as well. More terminologist jobs are also opening on the virtual plane in the expanding field of telehealth. All duties are given and tracked via the Internet, and the terminologist may only report to the actual office a couple of times a month, if ever. This lowers the cost for the medical facility and the terminologist.
AS FEATURED ON:
AS FEATURED ON:
By: Monkey Business

A medical terminologist may answer phones and file paperwork.

By: AntonioDiaz

The medical terminologist will typically be the first point of contact for the patient and insurance companies.

By: Marco Wydmuch

A medical terminologist may be responsible for greeting patients.