What Is a Merchant Seaman?
A merchant seaman is an individual who works onboard a water vessel to transport cargo across oceans and lakes. While the majority of seamen who work in merchant shipping handle cargo, some also transport humans and animals. There are multiple types of merchant seamen positions, such as captain, deck officer and engineer positions. While all work together to assure safe and reliable transport, detailed job descriptions for these types of seamen vary.
Some individuals who work as a merchant seaman are able to work close enough to a port to live onshore. For example, a ferry captain may live in mainland housing when not on duty. Most seamen live at sea for long periods of time, however. Seaman jobs for those living onboard a water vessel for an extended period of time are known to be particularly dangerous at times due to severe storms and other hazards, such as fire, slips and collisions. Very strict safety rules apply to seamen jobs and individuals must receive basic training in boat handling and safety procedures before becoming employed as a merchant seaman.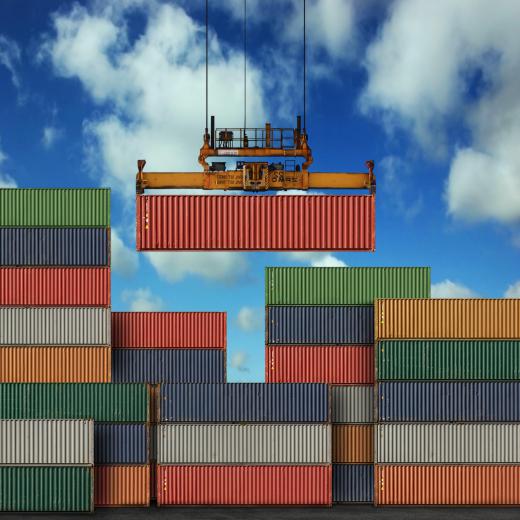 Also known as merchant marines or merchant navy positions, various types of seamen jobs exist within the industry. A captain or a ship master is a general overseer of the vessel's operation. Among the many duties expected of a person in this position is the responsibility for assuring that the vessel remains on course, is operating safely and that records of everything that take place onboard a vessel or pertaining to cargo shipment are accurate.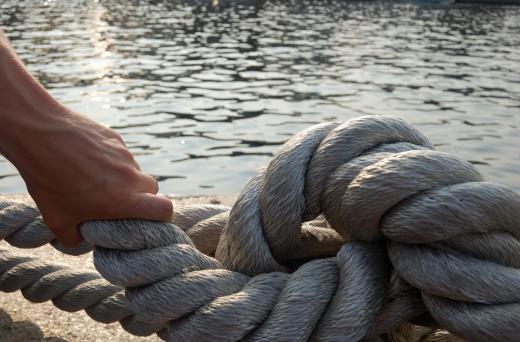 As another type of merchant seaman, a sailor or a deckhand, also known as an ordinary seaman or an able seaman, has various duties involving manual labor. For example, an able-bodied seaman may be assigned to maintain a vessel's gear, raise or lower smaller vessels from a main deck or clean a vessel's deck. Higher ranking able seamen also supervise other deckhands to perform various manual labor duties to ensure that the vessel operates at its most optimal level.
A merchant seaman generally undergoes formal training and an apprenticeship before being hired to work as an employee on a vessel. Often, these individuals are trained in the military, but may also receive specialized private training. Depending on the jurisdiction and specialty one works in, a merchant seaman may also be required to obtain licensing before being able to work. A small minority of merchant seamen acquire positions through on-the-job training.
Merchant Marine Jobs
A merchant mariner is a person who works on a commercial vessel after training via the Coast Card to become a Merchant Marine. There is a wide variety of jobs aboard a vessel that spans everything from cooking to ensuring the vessel is always in safe operation. Some mariners work on container ships that carry goods from one country to another while others work on cruise ships. Some mariners work spend their whole lives at sea while others work on the Great Lakes and spend time at home in the evenings or on weekends.
Common Types of Mariner Jobs
There are many types of mariner jobs, but some are more common than others.
Captains – The captain is the commander of the vessel and ensures it is always operating the way it should. In addition to steering the ship, captains direct the crew members, ensure safety protocols are being followed, and purchase supplies.
Deckhands – Deckhands maintain the vessel itself, with the exception of the engine. New deckhands are known as seamen while experienced ones are sailors. Cleaning, chipping away rust, tying barges together, and assisting passengers are just some of the tasks deckhands take care of.
Deck Officers – Deck officers take over when the captain isn't on duty. The chief mate assumes command of the ship when necessary and also handles cargo and passengers. Other activities include taking watch, assisting during docking, and supervising loading and unloading of cargo.
Marine Oilers – Marine oilers work in the engine room, lubricating the gears, maintaining temperatures and pressure gauges, and helping the engineers to ensure the vessel operates safely.
Ship Engineers – Ship engineers are responsible for maintaining the vessel's engine, generators, boilers, and everything else that keeps it running safely and efficiently. They also work on the electrical systems, start and stop the ship, and maintain its speed.
While they aren't part of the crew itself, many vessels also have pilots. The pilots go up into the air when necessary to help the vessel's crew navigate unfamiliar or tight waterways, such as when docking in a harbor. Some pilots work for one ship while others work for a specific harbor and help all the vessels entering it.
The Benefits of Becoming a Merchant Mariner
There are several benefits to becoming a merchant mariner. For many, the biggest perk of the job is the ability to see the world and get paid to do it. Mariners work in rivers, lakes, and of course, on the sea, which means there are a wide variety of opportunities. Many choose to spend their lives traveling the world while others travel for a while before settling into a position close to home.
Merchant mariners also make lifetime friends. When you spend all of your waking hours with the same crew members, especially when you're in international sea waters, you not only become friends but start to feel as if you are more like family. Mariners learn to work in teams and form strong bonds with the other people who work on the ship with them.
Merchant Seaman Salary
According to some information, the average merchant mariner made just under $54,000 in 2021. On the low end of the range, some new mariners made just $19,000 per year, while those who are more experienced can make more than $107,000 per year. This means that someone working as a merchant mariner brings in between $365 and $2,058 per week. The actual amount varies greatly depending on the area worked, the type of work being done, and the experience of the merchant seaman.
How To Become a Merchant Seaman
Typically, mariners receive their certification with the U.S. Coast Guard. There are other steps you must take as well. First, choose your career path. Do you want to learn to work on the deck or be an engineer? Your education path will vary depending on the type of job you want to have.
Once you have a career path and complete any necessary education, apply for a Transportation Worker's Identification Credential. TWICs prove you are not a security threat. You must be able to pass background checks performed by both the FBI and the Department of Homeland Security. After being approved for a TWIC, you'll need to get a physical and drug test. This proves that you do not have heart problems, specific psychiatric disorders, or a substance abuse problem.
Once approved, you can apply for and participate in an apprenticeship program. Most programs require you to spend at least 360 days on a vessel in addition to 26 or more weeks in a classroom setting. Training allows you to learn everything you need to become a successful merchant mariner.
Frequently Asked Questions
What is a Merchant Seaman?
A professional mariner who works on commercial ships, including cargo ships, tankers, and passenger liners, is called a merchant seaman. To ensure the vessel operates safely and effectively, they carry out a number of tasks, including navigation, cargo handling, maintenance, and safety measures. Merchant Seamen must be highly trained and flexible to adjust to changing circumstances since they operate in a demanding and dynamic workplace.
What are the typical duties of a Merchant Seaman?
Depending on the kind of ship and the particular position, a merchant seaman's responsibilities might change. The operation and maintenance of navigational equipment, the loading and unloading of cargo, the execution of safety drills and inspections, the handling of lines and ropes, and vessel maintenance are examples of common jobs. Also, they need to be familiar with emergency measures in the event of an accident or other unforeseen circumstances.
What qualifications are required to become a Merchant Seaman?
Candidates must normally finish a training program at a maritime institution or vocational school to become a merchant seaman. They must also possess a Merchant Mariner Credential (MMC), which is a document issued by the US Coast Guard that certifies an individual is qualified to operate aboard commercial boats. Depending on the individual function, additional credentials and licenses can be necessary, such as a Commercial Driver's License or a Tankerman's Certificate.
What are the career prospects for Merchant Seamen?
As there is a continuing need for qualified seafarers to operate aboard commercial boats, the career prospects for merchant mariners are typically favorable. Skilled merchant mariners may rise to higher-level positions with more responsibility and income, such as Chief Mate, Chief Engineer, or Captain. In addition, some merchant mariners could decide to change careers and work in maritime insurance, shipping management, or port operations.
What is the salary range for Merchant Seamen?
The pay scale for merchant mariners may vary based on a number of elements, including the kind of ship, the particular job, and the amount of experience. The average yearly wage for those employed in water transportation, which includes merchant seamen, is $60,980, according to the Bureau of Labor Statistics. For entry-level jobs, salaries may vary from around $31,000 to more than $120,000 for seasoned sailors in senior positions.
AS FEATURED ON:
AS FEATURED ON:
By: Binkski

Merchant seamen may assist with the offloading of intermodal containers from a ship.

By: inigoht

Some merchant seaman are deckhands.

By: Jeffery Kaufmann

A merchant seaman generally undergoes formal training and an apprenticeship before being hired to work as an employee on a vessel.