What Does a Metallurgist Do In Mining?
A metallurgist in mining plays a crucial role in extracting and processing metals from ores. They apply scientific principles to identify, extract, and refine metals, ensuring maximum efficiency and sustainability. Intrigued to know how they contribute to the mining industry's success?
A metallurgist is an engineer who specializes in studying the properties of metals. Metallurgists may also have training in geology, as metals extraction can be heavily involved with geology and an understanding of geology can be important to some people who work with metals. Metallurgists can be found working in a wide variety of settings all over the world, and employment prospects in this field are generally quite good.
An extraction metallurgist focuses on getting useful metals out of ores. He or she may also be interested in the process of purification and alloying, working with metals to develop well-known products and developing new metals which can be applied to a range of engineering problems. Chemical and physical metallurgists study the chemical and physical properties of metal, looking at things which stress metal, such as fatigue, corrosion, and temperature changes. A process metallurgist specializes in turning metal into something useful, and exploring the ways in which metal products can be manufactured and utilized.
To become a metallurgist, it is usually necessary to attend a training program which offers opportunities to people who are interested in careers in metallurgy, ranging from a technical school which teaches people forging techniques to a college or university engineering program. Some metallurgists may also acquire their skills on the job, working under supervision initially and eventually independently, although this method of learning metallurgy is less common.
Metallurgists spend a lot of time in the lab, studying metals and conducting experiments with them. They can also work in smelting facilities, monitoring the production and alloying of metals and supervising the process of handling metal ores. Others work for companies which use metal products, such as car companies, which may use the services of a metallurgist to engineer cars for maximum safety and efficiency. Metallurgists may also work for private consulting firms and governments, providing a range of services ranging from forensic investigation into bridge failures to policy recommendations which are designed to standardize metal products.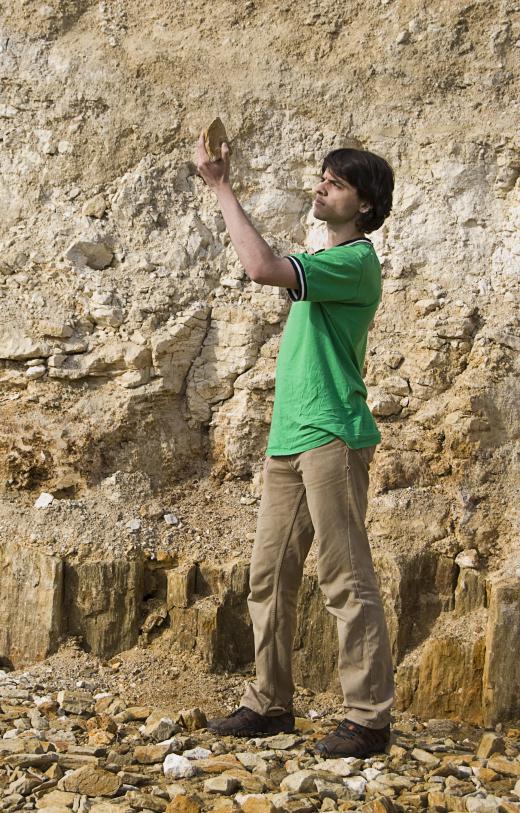 Metallurgy is not all about heavy industry. A metallurgist can assist with the production of jewelry and other fine arts which involve metals, supervising the alloy of metals used in jewelry to ensure that the metal remains of high quality, and helping jewelers and sculptors fabricate complex custom projects. This aspect of the field involves a blend of engineering acumen and artistic flair, as well as an ability to communicate with diverse people and companies, ranging from a jeweler who is very concerned about quality control to a company which sells metals used in jewelrymaking.
What Is a Metallurgist
Metallurgy is an offshoot of material sciences, which is the study and production of solid materials through science and engineering. Metallurgy specifically focuses on metals, their structure, and how to create metal alloys. A metallurgist is someone who works in this field to study metals and develop stronger and more versatile metal products.
Why Study Metals?
While a metallurgist may study any form of metal, one area that many specialists are focused on is the development of metal alloys. While metals are pure elements that can be found naturally, metal alloys are man-made substances that combine a metal with other materials to create a new substance. Some common examples of alloys are steel and aluminum. Different types of alloys have different applications in creating technology, structures, and countless items that need metals to function. From vehicles, to buildings, to fillings used in teeth, metals and metal alloys can be found all around. New alloys can improve existing products and technology and can assist with the innovation and engineering of new items.
Educational Requirements
Generally, someone hoping to work in metallurgy should have at least a bachelor's degree. This should be in a subject related to engineering or materials science. For some more technical industries, postgraduate degrees may be an important part of qualifying for jobs. A master's degree from an accredited program can give a person a competitive edge when applying for jobs.
In addition to formal education, there are many certifications and licenses that may be necessary for jobs working with metals. Being certified to use welding equipment, for example, is important for anyone planning on building or repairing metal components as part of their career. A more specific certification in metallurgy is the Certification in Achievement in Metallography, which demonstrates an understanding of fundamental skills in studying and working with metals.
Metallurgist Salary
The salary for metallurgists is comparable to that of other materials scientists, with an average yearly salary of about $81,000 a year. For some industries, expert metallurgists may get paid as much as $130,000 a year. Higher paying jobs are often related to the mining of metals or advanced technological fields, such as aerospace engineering. There are many jobs for metallurgists working for the government in the public sector as well as for private companies.
Specialties in Metallurgy
In order to get a job in metallurgy, it can help to identify an area of focus to become a specialist in. Metallurgists may work in a few subfields that specialize in different studies and uses of metals. One common area to work is in chemical metallurgy. These jobs often require the metallurgist to test existing metals to determine how to get maximum usage out of them before they deteriorate as well as assisting in the mining and extracting process for gathering raw materials to make producing metal products more efficient.
Process metallurgy is another area of specialty that involves designing metal components. A process metallurgist is often very hands-on, welding metal pieces together and coming up with designs for different items.
A third area of specialty is physical metallurgy. These specialists work with existing metals in a lab setting to test them for different features, such as stress limitations.
What Jobs Are Available?
Metallurgists' jobs can be divided into two main types of work. The first is lab work, which is related to doing tests and recording data in a controlled setting. The second type of work environment involves working with metal equipment as it is being used by monitoring metal components, repairing broken equipment, and creating new metal items. Lab work is a vital part of discovering new substances whereas working in the field or on the floor of a company helps ensure the safety of the many people who work with equipment that relies on metal components every day.
Career Outlook
Similar to many industries, new technology and automation of processes have led to a need for fewer employees in metallurgy. Existing jobs in the field are highly specialized. While they are scarcer, modern jobs require someone with fine-tuned skills, and the paychecks for metallurgists should reflect this. While metallurgy jobs can be competitive, there are opportunities for candidates that have met the education requirements. Job openings are expected to grow by about 4% by 2030, and as people retire and move out of the industry, new positions consistently become available. Having a background in other types of material sciences or engineering may help someone hoping to enter into the field to stand out.
AS FEATURED ON:
AS FEATURED ON:
By: Andriy Solovyov

A metallurgist may work in smelting facilities.

By: VIKTORIIA KULISH

A metallurgist may assist with the production of jewelry.

By: yarchyk

A metallurgist may have training in geology.

By: chirnoagarazvan

A knowledge of metallurgy helps a welder know which torch should be used for cutting specific metals.