What Does a Mycologist Do?
A mycologist is a scientist who studies fungi. The kingdom of fungi is quite large and, as a result, the nature of the work a mycologist performs is highly variable. Mycologists can be found working everywhere from breweries to pharmaceutical companies. Working mycologists typically have advanced degrees in mycology and some have completed postgraduate work.
Some mycologists are interested in fungal genetics. They study the DNA of molds, mushrooms, and other members of the fungi kingdom to learn more about them. A genetic mycologist may use this information to assist people with taxonomy, the classification of organisms. Genetics can also be valuable to understanding how some fungi produce toxins, when and why some fungi evolved, and how fungi have adapted to their environments. Geneticists work primarily in lab environments, using samples of fungi to study with the assistance of gene sequencing equipment.
Other mycologists are interested in how fungi cause disease. Fungi are widely distributed disease causing organisms which can infect plants, animals, and people. A mycologist who is interested in this particular branch of the field may study how fungi infect people, what kinds of toxins they produce and how they work, and how to prevent or treat fungal infections. Fungal infections range from infections of the nail, which can cause cosmetic damage, to devastating plant infestations which can ruin crops. There is a great deal of room for research in this field.
A mycologist can also apply his skills to making fungi useful for humans and learning how fungi can be harnessed for people. Fungi can be used in the production of some medications, and many mycologists work in the pharmaceutical industry, cultivating and studying fungi to develop new medications and refine existing ones. Some of the most widely studied and used fungi in the world are yeasts, and mycologists who focus on yeast may work with beer or bread, two food products made with yeast. They may develop new recipes, as well as new strains of yeasts which can be used by everyone from home bakers to commercial breweries.
Fungi are also used for other human purposes, like making dyes, enriching soil for farmers, and remediating environmental pollution. Mycologists study the myriad ways in which fungi can be applied and develop new methods for working with fungi to improve the consistency, quality, and safety of projects conducted with fungi. This type of research can involve field work, experiments in controlled environments, and study in the lab.
How To Become a Mycologist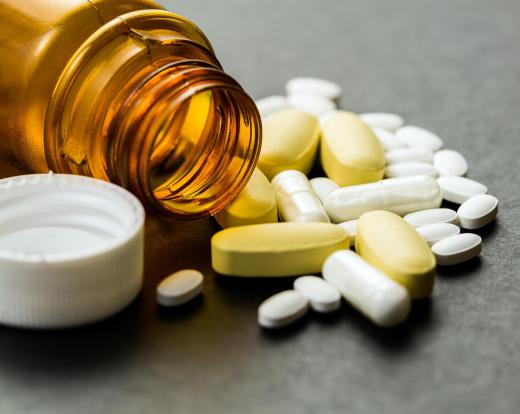 Becoming a mycologist can require an extensive amount of schooling, and someone hoping to enter into the field should plan on several years of higher education. After graduating with a high school diploma, the first step to becoming a mycologist is to get a bachelor's degree. This generally takes about four years to complete. The bachelor's degree does not have to be in mycology, but it should be in something relevant to the field, such as microbiology or biochemistry.
Some jobs only require a bachelor's degree for entry-level positions; however, to increase a person's chances of securing their desired job in mycology, it can be advisable to consider graduate school. A master's degree or Ph.D. in mycology is necessary for many upper-level jobs in the field.
If the desired mycology jobs are related to the industries of pharmaceuticals or food, additional certifications may be required for employment. These may be earned after graduating, and may even be part of the job training for the specific occupation.
Participating in Extracurriculars
Doing well in school is important for being accepted into higher-level graduate programs. In addition to striving for good grades, students wanting to work as mycologists should consider participating in extracurricular activities. These can greatly help round out graduates' resumes when it comes time to apply for jobs. Extracurricular activities include things like research projects, internships, or relevant job experience. Looking for opportunities during the summer months when classes are not in session can be a great way to get a more well-rounded education that prepares graduates to successfully enter the job market.
What Does a Mycologist Study
Mycology is a subfield of biology. While biology is the study of all living things, mycology is more specialized and focuses only on the kingdom of fungi. While the first thing many people think of when they hear the word fungi is mushrooms, it can actually include many more organisms such as yeasts and molds. Fungi play a critical role in the function of the environment as well as having many practical uses for humans. With well over a million documented species of fungi and more being discovered all the time, there is a lot to be researched in this branch of biology.
Why Study Fungi?
Fungi fill a critical niche in the natural world by breaking down dead plant and animal matter. They can also fill a wide variety of other roles and produce many unique compounds. Many mushrooms are edible, and some are considered delicious delicacies that are important in the culinary world.
All of these things make them a worthwhile area of study for several reasons. Firstly, fungi may be used to help safely break down various waste products created from human activities. The compounds they produce can be used to create medicines, foods, and other important items. More uses for fungi are constantly being discovered, and mycologists have played a large part in these discoveries.
Mycologist Salary
The average salary for mycologists according to the Bureau of Labor Statistics is about $71,000 a year. This can vary depending on the amount of education the mycologist has received and the specific job position they decide to take.
Common Jobs in Mycology
There is not one specific job that all mycologists enter into upon receiving their degrees. Instead, there are a lot of different industries and organizations that may need a specialist in mycology. One common area for mycologists to work is in academia. These positions involve a lot of research and may require the mycologist to teach classes or publish works that contribute to the existing body of knowledge about fungi.
Another common industry to work in with a background in mycology is the pharmaceutical industry. Research in this field can contribute to the production of new medications and treatments for various medical issues. Fungi have been used in medications for many years, and there are potentially thousands of new ways that they could help save lives and soothe medical ailments. One of the most famous examples of fungi in medicine is the life-saving antibiotic, penicillin, which is made using a specific type of mold.
Finding the Right Job
While the jobs discussed above are some of the most common, they are far from the only options for someone wanting to work in mycology. Other jobs include working with fungi in a culinary setting, including brewing beers and crafting other fermented food items. Jobs related to growing and harvesting useful varieties of mushrooms may also be available.
AS FEATURED ON:
AS FEATURED ON:
By: Steve Lovegrove

A mycologist might find work at a brewery.

By: Darren Baker

Mycologists who specialize in fungal genetics work primarily in lab environments studying samples of fungi.

By: johny87

A mycologist may study the DNA of different types of molds.

By: Lambros Kazan

Mycologists can be employed by pharmaceutical companies.

By: robynmac

Mycologists study fungi, which includes mushrooms.

By: Barabas Attila

A mycologist might study how to prevent yeast infections.