What does a Naturopathic Vet do?
Naturopathic veterinary medicine is a holistic approach to healing animals that incorporates an awareness of the body and what it needs to heal itself. Like a naturopathic doctor, a naturopathic vet uses a combination of alternative healing methods including diet and nutrition, homeopathy, herbal medicine, acupuncture and acupressure, and Chinese herbal medicine to help the body heal. A naturopathic vet works with the animal's caretakers to determine the best healing method based on observation and investigation.
Naturopathic medicine approaches healing with the philosophy that the body will heal itself if given the right tools and the right care. Naturopathy is a noninvasive approach to medicine that seeks to eliminate factors that cause health problems. Once the body is returned to a balanced, healthy state, naturopathic medicine seeks to prevent further illness by finding a balanced life style that includes a good diet, appropriate exercise, limited stress, and educating the patient in ways to live a healthy life. A naturopathic vet works closely with an animal's handler to design a program that will return the animal to a healthy state and then maintain that state of wellbeing.
A naturopathic vet investigates the animal's lifestyle and possible contributing factors to illness, such as stress, diet, exercise, and environment, by interviewing the primary caretakers. After discussing the details of the animal's environment, a naturopathic vet observes the animal to further determine contributing factors that may cause the disease or illness. Using the information gathered, a naturopathic vet will then diagnose the problem and work to find the best cure. Diet and nutrition is one of the first steps, either increasing nutrients that are lacking or eliminating foods that are causing unbalance and harm.
A naturopathic veterinarian begins his or her education by training to be a traditional vet. Once certified as a Doctor of Veterinary Medicine (DVM) by a governing agency, such as the American Veterinary Medical Association, a vet seeking to become a naturopathic vet continues the training through a program certified by a homeopathic agency, such as the Academy of Veterinary Homeopathy (AVH). All certified naturopathic veterinarians must also be fully trained, certified veterinarians.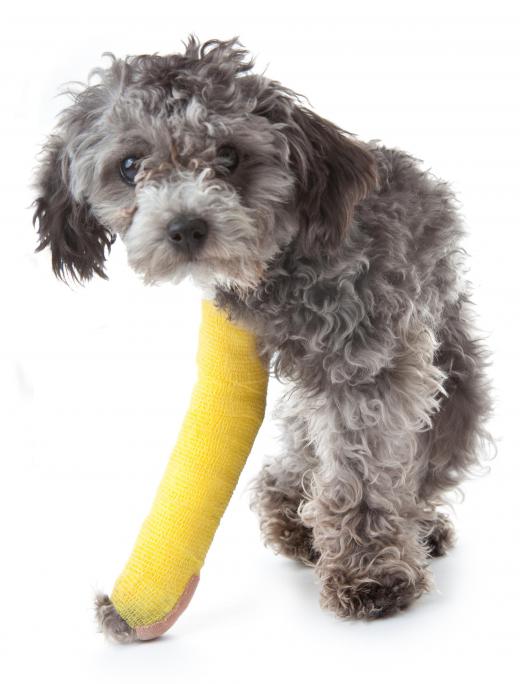 Naturopathic veterinary medicine uses all the tools and resources available. Unlike other methods of healing that focus on one discipline, such as nutrition, homeopathic medicine, or conventional medicine, naturopathy uses the resource best suited for the condition of the individual patient. Animals are sensitive to stress, food, and environment just like people, and finding balance is the best way to have a happy, healthy companion.
AS FEATURED ON:
AS FEATURED ON:
By: Gabriel Blaj

Naturopathic vets use alternative healing methods to encourage an animal's body to heal itself.

By: hues

A naturopathic vet begins by becoming a fully trained, certified veterinarian.

By: imageegami

A naturopathic vet may seek to ensure a dog has a proper diet to prevent it from easily fracturing bones.