What does a Newscaster do?
A newscaster reports the news to the public through radio or television station broadcasts. She may work alone, but normally works in conjunction with field reporters and other studio broadcasters to cover a variety of topics and subjects. Her job may be with a small, local station or a major station that broadcasts over a wide range of national and international networks.
A television newscaster traditionally reads the news off a teleprompter, a video monitor that scrolls her script at a natural pace. In a radio station setting, the newscaster may read from a monitor or hard copy documents. In both cases, taped reports from remote reporters are normally interspersed into stories to add variety and the drama of providing the most up-to-date facts.
Computer skills are normally required for this position. Leads on breaking stories are frequently transmitted to news stations via electronic communications. A newscaster also commonly uses a computer to check facts and updates on news stories.
In smaller venues, a newscaster commonly reports on hard news as well as sports, weather and human interest subjects. Larger stations normally have broadcasters and reporters in each of those areas. Occasionally a newscaster will report on a subject out of his or her area of specialty for the enjoyment of the audience as well as to broaden her areas of expertise.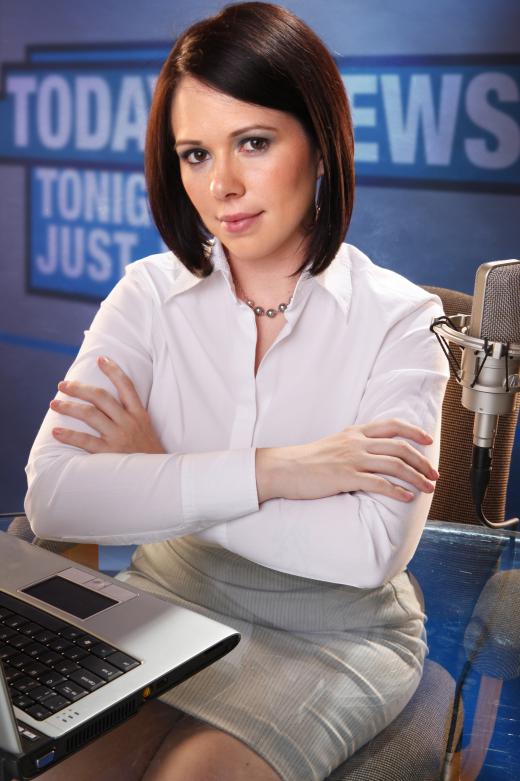 Before the news is broadcast, the broadcasters typically review the content of the program with the director and producer. This solidifies the focus of certain stories and ensures everyone is in sync. Feeds with field reporters are also normally checked for clarity prior to air time.
Success as a newscaster ordinarily requires a pleasant speaking voice that is equally soothing and authoritative. If the job is in the television industry, she is generally expected to have a warm and inviting demeanor that appeals to a large demographic. Maintaining composure under pressure is normally required to be a popular and respected newscaster.
A good command of language is usually required for this position. Using proper grammar and sentence structure enhances a broadcaster's professional image. Being able to pronounce foreign names and places with ease is generally considered an asset for this job.
This position customarily requires a bachelor's degree in media communications, broadcasting or journalism. A considerable number of broadcasters work as paid or unpaid interns at local radio or television stations to gain hands-on experience and establish media contacts. In some cases, a broadcaster may first work as reporter to hone her broadcasting and reporting skills.
AS FEATURED ON:
AS FEATURED ON:
By: withGod

On-air newscasters commonly rely on teleprompters.

By: redav

A newscaster reports the news to the public through radio or television station broadcasts.

By: Innovated Captures

Meteorologists are a part of most newscasts.

By: TOM ANG

A newscaster will introduces stories covered by reporters.

By: Duncan Noakes

A newscaster reports on breaking stories, such as vehicle accidents.

By: Sanjay Deva

Newcasters may put together special reports on issues such as public health.

By: Tanouchka

A newscaster may have her own makeup artist on set.