What does a Paving Contractor do?
A paving contractor is a company that constructs paved surfaces such as roads, sidewalks, concrete floors. They also work on larger projects, such as airport runways. These companies are hired by homeowners, businesses, and municipal agencies to pave new surfaces or repair existing ones. Many paving companies specialize in either residential or commercial work, though some may perform both types depending on the scope of the project and the equipment required.
The residential paving contractor must meet with homeowners and provide estimates to secure new projects. He may be hired to lay a new driveway, patio or concrete floor, or to repair structures such as steps or walkways. Some companies may focus on landscape paving, including both installing poured surfaces and laying stone products such as pavers or outdoor tiles.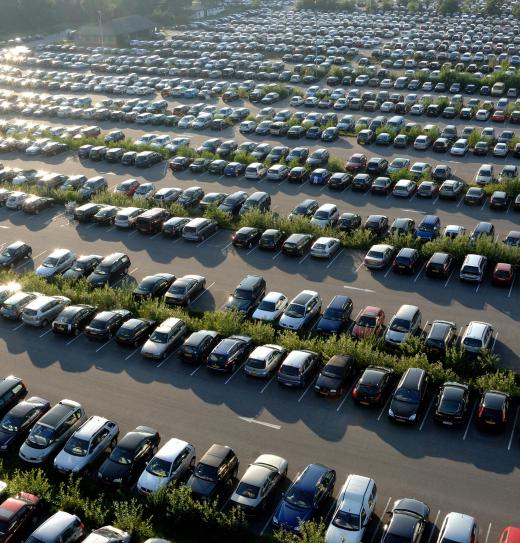 Commercial paving contractors typically provide pricing for jobs in the form of a bid, and the lowest bidder is generally awarded the job. In a commercial setting, the paving contractor typically reports to a general contractor or construction manager rather than directly to the owner. He may be responsible for pouring floors, parking lots, or walkways in a new development. Contractors working on municipal projects may lay new roads or sidewalks, or repair potholes, cracks, and other signs of damage in existing paved surfaces.
Those interested in a career as a paving contractor should be prepared to work outdoors in all types of weather conditions. They must be comfortable working on busy roads, as much paving work is completed while traffic passes nearby. It is helpful to have some experience with flagging and road safety, as many paving contractors must be trained in these areas. Workers should be prepared to work in dirty, noisy and busy conditions, and must be willing to coordinate with other trades throughout the duration of a project. Those working with hot asphalt should be aware of the potentially toxic fumes and high levels of heat involved with this type of work.
Most paving work is performed using large pieces of equipment. A paving contractor may use a paving machine to smooth out a freshly laid road surface, or an excavator to prepare the earth for paving. Large tamping machines help to flatten out dirt or gravel surfaces, and concrete trucks keep concrete and other paving materials mixed and ready to pour. The paving also may use a dump truck or tractor to haul stones, gravel or asphalt, or to carry away excess dirt and waste products.
AS FEATURED ON:
AS FEATURED ON:
By: Gerhard Seybert

Commercial paving contractors may be responsible for paving parking lots.

By: nito

A paving contractor may haul gravel for specific construction jobs.

By: vadimgouida

Paving contractors working on municipal projects may lay new sidewalks.

By: Ingus Evertovskis

A paving contractor will be commissioned to pave or re-pave roads.

By: kalpis

Paving contractors may lay down walkways composed of paving blocks.