A pit manager, or pit boss, is a managerial position in the gambling industry. The job of a pit boss is to supervise the activity of a casino pit, which is the name given to the area in a casino reserved for table games, such as craps, roulette, and poker. A pit boss is in charge of all personnel who work in a given pit, including dealers, game supervisors, and other maintenance workers, and is responsible for the smooth operation of the games that are conducted there.
Most casinos feature pits that contain anywhere from six to twelve tables each. Small casinos may only have one pit, but large venues can feature a dozen or more pits, with a pit boss running each one. Aside from being available to resolve minor issues that come up in the course of a shift, pit bosses must be knowledgeable about their jurisdiction's gaming laws, and make sure their pit remains in compliance at all times. This can include monitoring incidences of suspected cheating, underage gambling, or people gambling while intoxicated.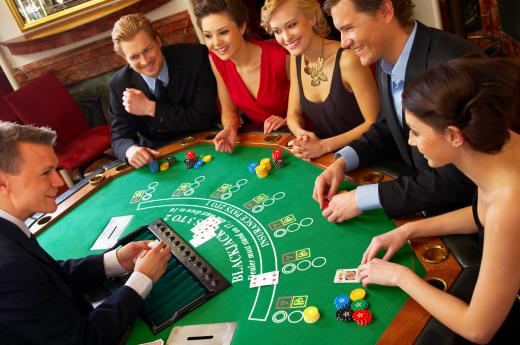 In addition to such regulatory responsibilities, a pit boss also has the authority to offer customer relations perks, such as free drinks, meals, gambling credits, and other complimentary items. Besides maintaining a positive atmosphere for both customers and employees, a pit manager can have other, more technical duties, such as managing payroll, conducting training sessions, and scheduling shifts. In most jurisdictions a pit boss must be specially licensed by the local or regional gaming authority, and, therefore, must pass varying degrees of background checks and character assessments. In many locations a convicted felon may not be eligible for a gaming license, and therefore unable to work as a pit manager.
It is not uncommon for the career path of a casino employee to progress from dealer to game supervisor to pit manager, and beyond. The position of pit boss is considered mid-level, and the need for a comprehensive understanding of the games in the pit makes prior experience working with a variety of games a strong positive. Unlike dealers, whose income relies greatly on tips from players, pit managers make a guaranteed salary. This degree of financial freedom is intended to promote more varied interaction on the part of the bosses with the players, and allow for a greater degree of neutrality when settling player disputes.
AS FEATURED ON:
AS FEATURED ON:
By: Yuri Arcurs

A boss pit is charge of monitoring dealers.

By: Elnur

Pit bosses oversee table games at Las Vegas casinos.

By: MaryPerry

Casino pit bosses are in charge of activity at a craps table.

By: Vojtech Vlk

Pit bosses make sure the equipment in games such as roulette work properly.