What does a Plant Engineer do?
A plant engineer is a company employee who is responsible for maintaining and repairing machinery and equipment. Manufacturing companies and power plants are among the major employers of plant engineers. Many large companies employ several engineers to ensure that there is an engineer on the premises 24 hours a day and seven days a week. Plant engineers are usually well paid, but engineers with specialist knowledge and advanced degrees are even more highly compensated because employees with such skills are in high demand throughout the world.
Companies normally require a plant engineer to have a college engineering degree. Employers usually seek out job candidates with an engineering degree that is relevant to the particular industry, such as a mechanical, nuclear, chemical, or electrical engineering degree. A plant engineer normally starts as a member of a plant crew and handles general maintenance issues. Senior engineers can be promoted to supervisory and management positions. Engineering managers must help to train and recruit new employees as well as coordinate staffing schedules and manage departmental budgets.
Manufacturing firms usually require the plant engineer to conduct daily safety checks on heavy machinery and equipment. The engineer must perform a series of basic tests to ensure machines are working smoothly. In many places, companies are legally required to perform regular safety checks and local inspectors liaise with plant engineers to ensure that all health and safety regulations are being observed. At many plants the plant engineer must also perform regular preventative maintenance on equipment, and this requires the engineers to have a thorough knowledge of the machinery involved.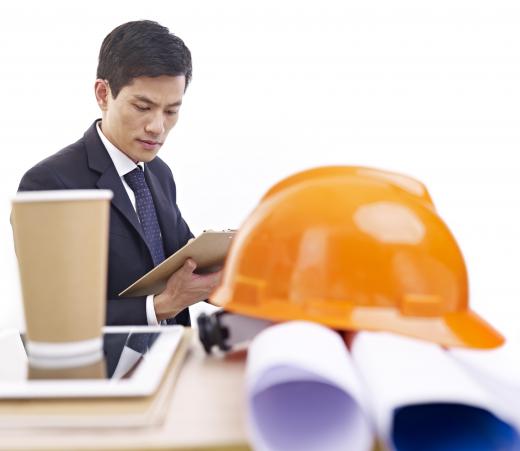 Plant engineers liaise with management and production teams to rectify problems with machinery and equipment that slow down production or create safety hazards. Some plant engineers are responsible for developing ideas to speed up production and cut costs. Senior engineers often work with employees involved in production and train them to handle and maintain new equipment.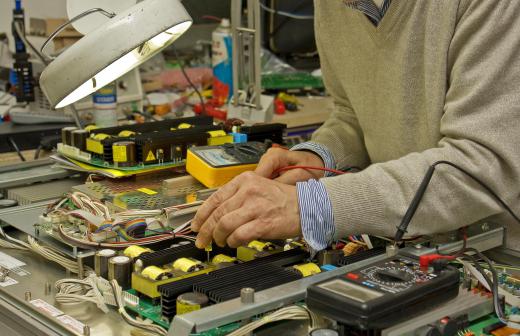 Power stations employ a team of plant engineers, some of whom perform basic tasks related to maintenance and safety, and others are required to have specialized skills. Plant engineers at nuclear power stations are usually required to have advanced degrees in physics and nuclear engineering because they oversee the process of creating power from radioactive materials. Nuclear engineers must ensure that radioactive materials are safely stored and that nuclear reactors remain structurally sound. In the event of a power station leak, plant engineers wearing protective clothing attempt to seal the leak and determine the safety risk posed to the rest of the plant and the surrounding area.
AS FEATURED ON:
AS FEATURED ON:
By: Martin Capek

A power plant engineer is responsible for monitoring the status of several power generation systems.

By: imtmphoto

Plant engineers maintain and repair machinery and equipment at manufacturing companies.

By: Sergio Di Giovanni

Many plant engineers must know how to test and calibrate electronics and industrial machinery.

By: Kadmy

In some cases, a plant engineer may play a key role in designing and equipping a facility before it is opened.

By: uwimages

A plant engineer may oversee the operation of various systems in a manufacturing facility.

By: Maurizio Targhetta

Some plant engineers must have the skills required to service and troubleshoot computer numerical controlled machinery.