What does a Plant Scientist do?
A plant scientist delves into the fascinating world of flora, studying plant life from the smallest algae to the tallest trees. They explore plant genetics, growth, reproduction, diseases, and interactions with the environment. Intrigued? How might these studies impact our daily lives and the future of our planet?
A plant scientist is a biologist who focuses on various types of plants, usually those grown as crops for food, fiber, and other purposes. This work can involve field and lab work on a variety of topics, from improving yields to developing more nutritious food plants for the purpose of fighting hunger in underdeveloped nations. Plant scientists usually need a bachelor's degree at a minimum, and many have advanced degrees. In addition to working directly with plants, plant scientists can also be professors, educating the next generation and conducting research with their students.
Plant science has a heavy focus on conservation and efficient resource use. A plant scientist is often concerned with how to meet human needs, like demands for food and fiber, while balancing the welfare of the environment. The work can include learning more about how plants grow, creating and promoting sustainable agriculture techniques, educating farmers and growers about how to work with the surrounding environment, and developing drought resistance and other useful traits in crops so they don't demand as many natural resources.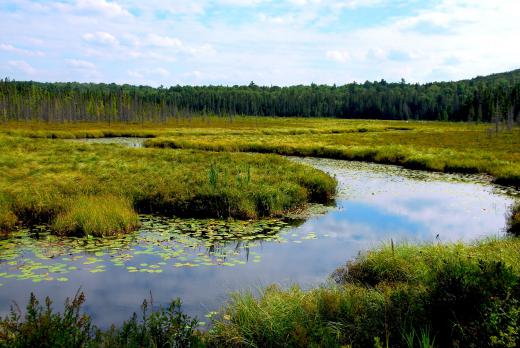 In the lab, a plant scientist can perform tasks like sequencing genomes, dissecting plants, and studying plants in a controlled environment. Field researchers collect specimens and conduct experiments in the natural world. Some plant scientists split their time between field and lab, depending on the kind of work they do. They generally have access to a variety of equipment to assist them with research goals, and many have assistants to help with data logging and collection, as well as other tasks.
While in school, a plant scientist needs to study biology and math. The work can include statistics and some advanced math, and researchers also need to be familiar with plant anatomy, ecological issues, and related topics. As people advance in school and learn more about available careers, they may pick an area of focus, such as genetic engineering or wetland preservation, pursuing additional training in this area. Graduate students have an opportunity to conduct research and contribute to the body of knowledge on plant science.
Pay available for a plant scientist varies, depending on the kind of work she does. Plant scientists can work for government agencies, private companies, and nonprofit organizations. Working in the private sector tends to offer the most pay and benefits, although government work can provide more opportunities for research and exploration. People considering careers in plant science can look up wages in different regions and sectors for comparison if they want to learn more about available compensation.
AS FEATURED ON:
AS FEATURED ON:
By: Elenathewise

A plant scientist might study wetland preservation.

By: 18percentgrey

Scientists use laboratories to study plants in a controlled environment.

By: eliaskordelakos

Some biologists work in agronomy, studying crops, soil, and the environment.