What Does a Presentation Specialist Do?
A Presentation Specialist designs compelling, visually engaging presentations that effectively communicate a company's message. They blend graphics, data, and text to tell a cohesive story, often using software like PowerPoint. How do you think the role of a Presentation Specialist evolves in the digital age?
A presentation specialist designs PowerPoint® presentations, works with sales and marketing departments to identify the best ways to present a product or service, and aids in the overall presentation of goods or services. Professionals who work a presentation specialist job generally have significant experience working with PowerPoint® and possess an advanced level of understanding regarding the Microsoft® program. These specialists can work in any number of industries, including media, finance, and nonprofits; the position is generally considered an aspect of the marketing and/or sales departments.
The major responsibility of any presentation specialist job description is the planning, creation, design, and sometimes the actual presentation of a PowerPoint® slide show. PowerPoint® has long been regarded as an effective business tool for properly illustrating the capabilities offered by a product or service. The PowerPoint® presentation specialist draws on years of experience and training to design unique, memorable presentations that fully demonstrate the efficacy of a specific business's offerings.
Before the presentation specialist draws up the PowerPoint®, he or she works in close conjunction with a company's sales and marketing departments to determine the best ways to present a product or service. He or she will identify the strengths of the product, learn its physical characteristics, and develop the most effective ways of marketing the product to its designated audience. Duties often include collaborating with salespersons and marketing specialists to brainstorm appropriate avenues for selling goods or services.
Jobs in the field will typically entail the specialist playing an integral role in the presentation itself. During the presentation, whether or not the specialist is conducting the actual talk, he or she will be called upon to gauge how the presentation is progressing. Throughout the event, he or she can communicate with other staff members to edit or alter the presentation as necessary in order to better present the product at hand.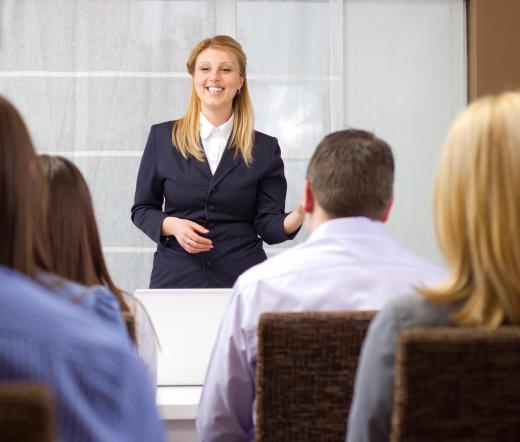 People in this role usually possess expert knowledge of PowerPoint® and have the skill and education to prove it. He or she must also have superior communication skills, as properly interacting with various departments and personality types is a requirement of the job. There is no specialized degree, although many in the field have significant experience in administrative and/or marketing capacities. While a certain job may or may not require it, it is also helpful for a presentation specialist to be a solid public speaker who knows how to read an audience and measure its response.
AS FEATURED ON:
AS FEATURED ON:
By: Alessandro Capuzzo

A presentation specialist designs PowerPoint® presentations.

By: eillen1981

Presentation specialists may need to know how to operate a digital projector.

By: sneksy13

A presentation specialist works with marketing and sales departments to identify the most ideal ways to present a product or service.