What Does a Principal Architect Do?
A principal architect serves as one of the owners in an architectural design firm. In a single-person firm, the founder not only serves as the principal architect, but also handles all business and design decisions on his own. Large firms may have multiple principals, and the responsibilities for each of these individuals can vary from business to business. In some companies, each principal architect is responsible for a specific task, such as marketing or finance, while some firms split these responsibilities among all company leaders. The principal in an architectural firms fills a similar role to partners or principals in other professional businesses, such as legal firms or medical offices.
Unlike staff architects, principals at a design firm are responsible for decisions related to business management. They must plan the direction of the firm, and determine what types of projects the company will focus on. These professionals come up with strategies related to budgeting, marketing, and financial planning. They also have the final say in all decisions relating the business, and are responsible for resolving disputes or disagreements between other staff members. Principals also handle hiring and firing, and make decisions regarding company policies, training, and work environment.
In some companies, a principal architect may still oversee certain types of design work, particularly in small firms. He may take the reins on large or important projects, or advise other staff members when design questions arise. Principals are also asked to represent the firm at meetings related to project design. These professionals can act as consultants and play a small role in the design of a building, or handle the entire design from start to finish. Many architects who enter the field because of their love for design are eager to find ways to continue this work as they take on managerial responsibilities.
For small and medium sized firms, principals often play a dual role in both design and leadership. They can act as senior project managers, overseeing new or inexperienced staff members as they complete a project. They may also be needed to train or advise unlicensed architects as they work to earn their architectural license. The rest of the principal architect's time is spent making managerial decisions, evaluating financial documents, and marketing the firm to new clients.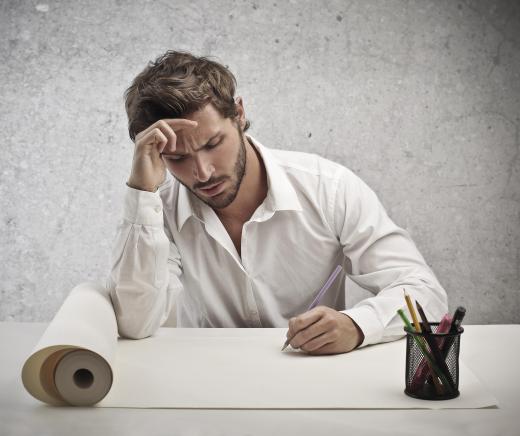 In large architectural companies, architects may take on several roles as they advance to the managerial ranks. A junior principal, or junior partner, is someone who has recently been promoted to the level of partner. Mid-level principals often take on titles such as executive or senior vice president. The senior principal architect is typically the firm's founder or one of its chief officers. Most principals have some form of ownership in the company, whether through their role as founders or as more recent investors.
How Much Do Principal Architects Make?
Principal architects earn an average starting salary of $100k. Depending on factors such as education, years of experience and company size and location, principal architects can expect to see this number increase to upward of $150k over their time in the industry. This position also receives bonuses and generous benefits packages, which lend to an overall compensation package higher even than the presented face value. Exact salary expectations can vary due to demand and salary statistics. The top U.S. locations for principal architects based on demand are New York and Georgia, while California and New Hampshire are number one based on salary.
How To Become a Principal Architect
As some of the most senior-level individuals at a firm, principal architects need to possess a wealth of knowledge and experience to lead the team successfully. To get there, they must start where many high-paying careers begin: at a college or university.
Education
Those wishing to pursue a career as a principal architect must first earn a college degree. Depending on your previous education, you can obtain an architectural degree as an undergraduate or graduate student. Many schools across the United States offer architectural programs. Some of the highest-ranked include:
Massachusetts Institute of Technology
Harvard University
University of California, Berkeley
Degree programs include coursework such as architectural design, mathematics and design theory. Regardless of the degree earned, it must come from a program accredited by the National Architectural Accrediting Board.
Those without a prior college degree in architecture can attend a five-year undergraduate program to earn a Bachelor of Architecture. If you have already achieved a bachelor's degree in a relevant field, you may instead opt to complete a two- to three-year graduate program for a Master of Architecture. While firms do not require an advanced degree, a Master of Architecture offers more advanced knowledge and increased opportunities for financial gains.
Licensure
In addition to attaining a degree in architecture, graduates must gain exposure to the industry by completing the National Council of Architectural Registration Boards' Architectural Experience Program. The AXP requires participants to finish 3,740 hours working with an architecture firm in six specific areas: Practice Management, Project Management, Programming & Analysis, Project Planning & Design, Project Development & Documentation and Construction & Evaluation. The goal of the program is to give you hands-on career experience that touches on all aspects of being an architect — but with specific attention to health, safety and welfare.
After completing the AXP, candidates must then pass the Architect Registration Examination as the final step in becoming a licensed architect. The exam tests individuals on architectural principles, such as:
Building integrity
Soundness
Health knowledge
Responsibilities within a firm
Passing the ARE exam is the final stepping stone to becoming a licensed architect. However, it is important to note that in order to maintain licensure in your state, you need to renew your license with continuing education on a regular basis.
Professional Growth
After entering an architectural profession, you should expect to grow in the field over the next five to 10 years while preparing to transition into the role of principal architect. Individuals typically progress from junior architect to senior architect along the path to securing the top architectural position. Becoming a principal architect requires individuals not only to demonstrate superior architectural talent but also possess the drive and ability to lead the firm's team to success.
What Are the Principal Architect Roles and Responsibilities?
While advancing to principal architect promises a higher salary, the promotion also comes with an increase in job roles and responsibilities. People in this position are involved in making key decisions that support the success of meeting firm-wide goals. While what you do on a daily basis may vary slightly depending on how your company is structured, there are still commonalities in the job description across the board. As a principal architect, you can expect to be involved with:
Design project leadership
Junior architect supervision
The principal architect is seen as a firm leader. This role is involved in key decision-making processes such as budgeting, contracting and marketing. People in this position are often responsible for the efficiency of the company's operations and the overall success of the firm.
On top of the roles and responsibilities that fall under the business management side of the job, principal architects are still heavily involved in the architectural side of the firm. They lead design projects, supervise junior architects and oversee the design teams. They also do quality checks to ensure all client expectations are met and projects are carried out smoothly.
AS FEATURED ON:
AS FEATURED ON:
By: goodluz

A principal architect develops design concepts.

By: Chad McDermott

Principal architects usually have graduate-level credentials in architectural design and planning.

By: olly

In a single-person firm, the founder serves as the principal architect and handles all business and design decisions.