What Does a Production Associate Do?
A career as a production associate involves assisting other individuals in the production of things like movies and television shows. While this position doesn't always get a lot of glory, a production associate does play an important role in making a production run smoothly. To be effective at this position, a person usually needs a variety of skills and must be able to follow orders. Some of the main responsibilities include acquiring production equipment, securing locations for shoots, providing scripts for cast members, finding travel accommodations for production and cast members and performing various errands.
Acquiring production equipment, such as cameras, is one of the most important duties of a production assistant. It's his responsibility to make sure that the production crew is fully equipped with everything necessary to shoot a film or show. This includes ordering production equipment, taking care of it and doing inventory counts. If something goes wrong and equipment ends up broken, the production associate is usually the one held responsible. Consequently, it's essential to be organized and understand the proper care techniques for each piece of equipment.
Another task that's often left to a production associate is securing locations for shoots. It's up to him to contact the necessary individuals in order to make sure that a location is available and secure it for a specified length of time. For some shoots, he may only have to look locally, which won't usually require much preparation. In other instances, a location may be at a significant distance, which might take considerable preparation.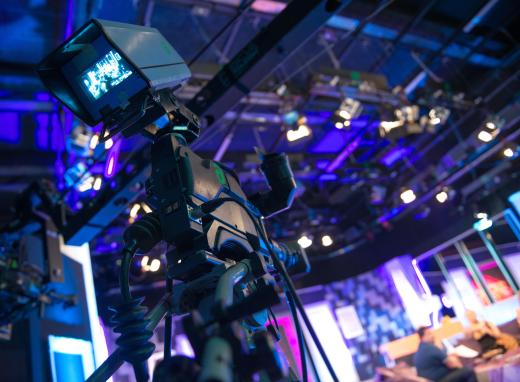 Providing cast members with scripts is also a common job duty. This often involves making copies and implementing changes to scripts when necessary. As a production progresses, the production assistant will be responsible for ensuring that scripts get into the hands of the right actors.
When shoots take place in distant locations, a production associate is usually the one to find travel accommodations for both production and cast members. For example, he may book hotels and flights. He might also find a means of transportation for getting from place to place. This aspect of the job requires a person with both organizational and communication skills.
Performing various errands for people like the director and other higher ups is an additional part of the job. This can include everything from designing a set and operating cameras to setting up catering or getting coffee. A production associate may also work as a liaison between cast members and a director.
AS FEATURED ON:
AS FEATURED ON:
By: A_ya

It's important that a production associate doesn't interfere with the production's live filming.

By: DeshaCAM

Production associates handle duties including acquiring equipment and securing locations for film and TV shoots.