What Does a Recruitment Administrator Do?
A recruitment administrator generally works within the auspices of a company's human resource (HR) department, handling inquiries relating to job recruitment initiatives. His or her duties may include responding to queries concerning job openings, sifting through curriculum vitae or resumes, or organizing and maintaining data related to a company's recruiting activities. This profession often entails performing some analytical tasks, such as tracking recruitment costs, or the amount of time a particular job opening remains vacant.
Those working in this capacity often serve companies with large staffing needs. A recruitment administrator may also work for a company that provides staffing services to other firms or organizations. Usually considered an important operational area within human resources, the position of administrating a company's recruitment activities may also involve handling inquiries from job applicants. A recruitment administrator often conducts background investigations on potential recruits as well.
Various other duties are often a part of the job description in this particular career path. One of the more important tasks is often reviewing applications from job seekers. Those working in this position are generally expected to be detail-oriented. They are typically focused on keeping what may be large amounts of incoming and outgoing HR-related queries and correspondence organized and categorized. As a result, a significant amount of data entry and management is usually involved in this position's job duties.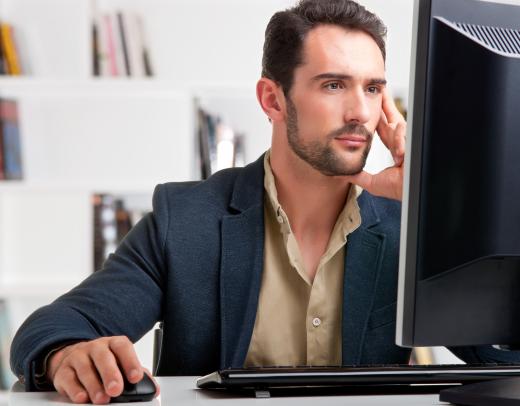 A variety of other administrative and promotional tasks are frequently assigned to a firm's recruitment administrator. Recruiting and hiring activities often necessitate composing and disseminating job recruitment notices to the public. Hiring events may also be organized by an administrator in charge of talent acquisition. The development of the recruitment timelines involved in filling positions is also commonly tasked to the recruitment administrator.
Some analytical tasks are usually a part of the responsibilities, too. In order to ensure the company's recruitment efforts fill vacancies in an efficient and cost-effective manner, the administrator may measure and calculate the average length of time it takes to fill a position, and correlate that to job recruitment expenses. As a result, he or she may draw conclusions that management may then use to more effectively conduct recruitment activities.
Other analytics that a firm may conduct in regards to hiring activities often include measuring rates of minority recruitment. The term recruitment administrator is more frequently used in English speaking countries other than the U.S. In the U.S., similar job responsibilities may be categorized as a human resources recruiter, or executive headhunter.
What Are Interview Questions for Recruitment Administrator?
A recruitment administrator is usually the one asking the questions of job candidates. It's easy to tell when a candidate is prepared for the interview and when they are not, and you know that a prepared candidate is more successful. If you are in the process of interviewing for a recruitment administrator position, you can prepare by thinking through your answers to these common interview questions.
Why do you want to work for this company?
It's especially important to think through an answer that is specific to each company. You can't have a generic answer to this question and make a good first impression. Do your research, especially regarding the company's mission. By demonstrating your understanding of who the company is, you also demonstrate how you're committed to their mission which makes you a desirable candidate for this position.
What qualities do you possess that make you an effective recruiter?
Be specific. If you've never held a recruitment administrator's position before, think about the qualities that you've seen in RAs that you've known from other jobs.
What are the top 3 interview questions you would ask a job candidate?
Skip the general getting to know you questions and make sure that the questions you would ask screen for the most important qualities of a candidate. While a person's credentials might be important, what's more important is learning about how that person would work as part of team, how he or she would handle the job pressure, and how coachable that person is.
Tell us about a recruitment event that went well. What made it successful?
If you've previously worked as a recruitment administrator, this should be easy. Feel free to humbly brag about your success. However, if this is a new role for you, be honest. Don't fabricate an event. Instead, talk about a positive experience that you had as a candidate at a recruiting event and the qualities that made it so. If you've only had mediocre or negative experiences, make suggestions about how you would have done it differently.
Do you have experience handling firings or layoffs? Give an example of how you handled that situation.
Firings and layoffs are one of the most difficult parts of recruitment administrator's job; and depending on the size of the company or the state of the economy, they could be a regular part of your job description. Talk about how you handle difficult conversations, who you would involve (a supervisor or manager) if you needed to, and how you keep track of previous employee data.
What is your process for tracking recruitment data?
A recruitment administrator wears a lot of hats, but one of your most important jobs is to keep track of a lot of data. You need to know where recruitment events are happening; how much it costs to advertise for and run those events; how successful the event was based on the number of qualified candidates that you met; and you need to keep all of the candidates' resumes and portfolios organized and easily accessible. You need to document conversations that you have with potential, current, and former employees, in addition to other data. Demonstrate that you understand the scope of data you would be responsible for by describing your organizational process, including how much time each day you would spend keeping up with it.
How Much Does a Recruitment Administrator Make?
On average, a recruitment administrator in the United States can expect to make around $50,000 annually. This number can be higher or lower depending on the part of country in which you live, the size of the company, your experience level when you begin your job, and how long you've been in your role at a company.
Meaning of Recruitment Administrator
As a recruitment administrator, it's important that you have great people skills, can communicate effectively, and are very organized. A recruitment administrator works as a member of a company's human resources department and focuses on identifying potential candidates, recruiting them to work for the company, and onboarding them once they've been hired. You need to believe in the company you're working for in order to effectively recruit people. You need to have good people skills that allow you to adapt to different personalities during recruiting events. Those same skills will also help you to recognize when you have a great candidate and when you should move on. A recruitment administrator is the first point of contact that job candidates have with a company, so you need to make a great first impression every time.
What Is a Recruitment Administrator?
A recruitment administrator is a person who works for recruitment firms or for a company's human resources department. He or she takes on the task of helping companies to find qualified employees. Typically, a recruitment administrator is responsible for the process from start to finish, including locating potential candidates, informing them of open job positions, reviewing applications or resumes, and interviewing those who are most likely to meet the qualifications necessary to do the job.
In addition to talking to potential job candidates, a recruitment administrator will also communicate with business owners, managers, department heads, and other people within the company to learn what they are looking for in an employee and to help them write the best job postings. Some recruitment administrators also help with payroll tasks or with offboarding employees who will no longer be working with the company.
How Much Does a Recruitment Administrator Make?
Various websites list different amounts when it comes to how much a recruitment administrator makes. Typically, the answers range from about $25,000 annually to more than $50,000 annually. The larger the business or corporation is, the more it is likely to pay its recruitment administrators. It is also important to note that these are base salaries. Some companies also pay their recruitment administrators bonuses for bringing in employees who work a specific amount of time.
There are also other things to consider when determining how much a recruitment administrator earns, such as benefits. A comprehensive benefits package may provide medical, dental, and vision insurance; paid time off for personal days, illness, or vacation; maternity leave; 401(k) or other retirement savings options; tuition reimbursement; and much more.
Finally, consider how much experience a recruitment administrator has as well. Someone who has only been working for a year or less is likely going to make much less than someone who has been on the job for 10 years or more. Many recruitment administrators see significant raises within the first 5-10 years of employment in the field.
What Are the Skills of a Recruitment Administrator?
A recruitment administrator performs a wide range of tasks that requires a variety of skills. From handling inquiries to interviewing people, arranging assessments to formatting documents, there is always something to do.
The ability to communicate effectively during high-stress situations is perhaps the most important skill. A recruitment administrator must be able to attend meetings with managers and department heads to discuss which positions in the company are open and what types of employees they are interested in hiring. Then, the recruitment administrator must be able to use written communication skills to create a job placement ad that not only effectively communicates what the position is but also entices candidates to apply for the position.
Further communication skills will be necessary to interview multiple candidates and hire the right one. The interview process is especially important, as the recruitment administrator must not only ask the right questions and interpret answers correctly but must also effectively answer any questions the interviewees have. This means that a qualified recruitment administrator will also have strong analytical skills. All of this can be quite stressful, especially during mass hiring events, so the recruitment administrator must be able to keep cool under pressure.
Communication skills aren't the only important ones, though. Recruitment administrators also have a lot of administrative duties. For this reason, it is important that someone in the field be detail-oriented and able to stick to strict deadlines. Doing so ensures that applications are processed in a timely manner, new employees are onboarded properly, payroll is delivered without error, and the offboarding of former employees go smoothly. The right recruitment administrator will also be self-motivated and self-sufficient, thorough, forward-thinking, and be able to multitask while working with complex information.
What Type of Education and Experience Does a Recruitment Administrator Need?
Because recruitment administrators have such a varied list of responsibilities, their education and experience can be quite varied as well. Most companies want the appropriate candidate to have both career-specific qualifications and human resources experience. If the company is in a specialized field, such as engineering, information technology, or manufacturing, knowledge of the industry will be essential for knowing which questions to ask job candidates and for properly analyzing the responses.
Even those recruitment administrators who work for non-technological companies must have strong English communication and mathematical skills. Typically, someone who wants to enter the field as a recruitment administrator should have a bachelor's degree or master's degree in business administration, human resources, industrial relations, management, or psychology.
AS FEATURED ON:
AS FEATURED ON:
By: vgstudio

A recruiting administrator may work for a company that provides staffing services to other organizations.

By: ruigsantos

A recruitment administrator or manager usually works within the organization's human resources department.

By: goodluz

A recruitment administrator may interview potential hires over the phone and in person.