What Does a Registration Clerk Do?
The job description of a registration clerk varies significantly depending on the industry in which the clerk is employed. Some clerks perform front-office duties such as answering phones, greeting new and existing clients, and filing paperwork. Others may be in charge of explaining policies and procedures or assisting clients in signing up for specific services. Most positions require an outgoing personality and good communication skills.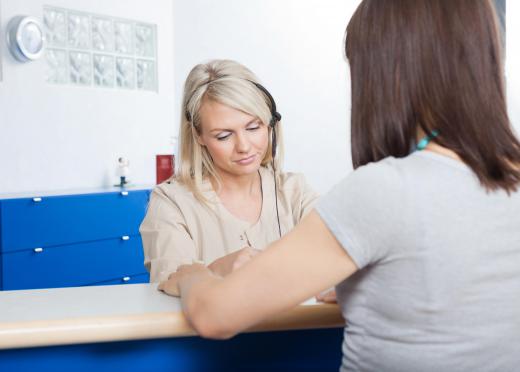 Numerous different types of industries hire registrations clerks. In the hotel industry, a registration clerk is responsible for checking customers into and out of the hotel. Hospital clerks enter patient data, including vital statistics, insurance information, and emergency contact information, into the system. Registration clerks also work in courthouses and government buildings, and may file important documents such as marriage licenses, birth certificates, and patent registrations.
Education requirements to become a registration clerk vary, but most require a high school diploma or GED. Many positions do not require a college degree, but prefer some level of experience in the industry. The positions are typically entry-level and pay hourly wages. While the starting pay is usually lower than the national average, many companies hire from within, so there can be room for advancement.
The work environment of a registration clerk also varies. Some work in an office setting at a front desk and engage in very little physically taxing work. Others may be required to walk throughout the building, so they spend a lot of time on their feet. Hospital registration clerks, for example, often use rolling carts and visit patients in their rooms, so they are constantly moving.
While the actual duties of a registration clerk differ from industry to industry, in most places, the clerk is one of the first people with whom the customers interact, either in person or over the phone. A clerk with an outgoing personality creates a good first impression for the entire company. It can be challenging to maintain a constant upbeat, positive attitude, especially when dealing with unfriendly customers, but it is important for the success of both the clerk and the company as a whole.
Good communication skills are also an important part of being a registration clerk. The position often requires explaining various policies and procedures to customers, and the ability to speak slowly and clearly is essential. The ability to speak more than one language can be very beneficial, although it is usually not a job requirement. Patience is also a good trait, as some customers may require a little extra assistance or make excessive demands.
By: omicron

In a hotel, the registration clerk is tasked with checking guests in and out of the hotel.

By: Tyler Olson

Hospital registration clerks are often tasked with answering gathering patient information and answering questions.

By: Marco Wydmuch

A registration clerk must have excellent people and communication skills.

By: surpasspro

It's common for a registration clerk to work in a courthouse or government building.

By: Kurhan

A registration clerk in a medical setting may be responsible for inputting patient data into a computer system.