What does a Research Technician do?
A research technician generally works in a laboratory assisting scientists in various ways. He or she also maintains lab equipment and works to ensure that the lab is properly stocked. Conducting outside research may also be a part of the duties of this position.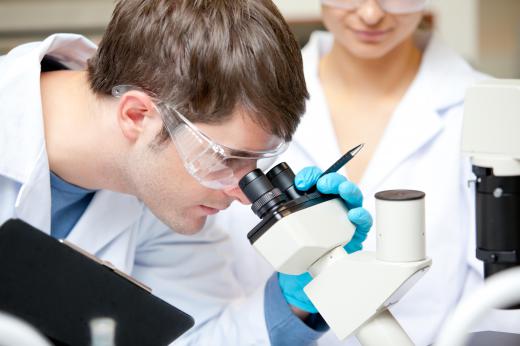 One of the main duties of research technicians is to assist the scientist with experiments by monitoring the experiments or making observations. Research techs may also conduct parts or all of an experiment themselves, depending on the directions from the scientist in charge. In addition, a research technician may record the results of the experiments using computers and computerized equipment.
During an experiment, a technician may draft progress reports. Once the experiment is complete, he or she may produce scientific reports that include results. Some technicians may be required to attend meetings and seminars in the field in which they work. They must also sometimes perform searches for similar research that has been performed in the field. Keeping up to date with the research area is important and will help the research technician when he or she is assisting the scientist.
A research tech is often responsible for caring for lab equipment. This includes cleaning, calibrating, sanitizing, and maintaining the equipment on a regular basis. He or she must also know how to correctly operate all of the instruments. If any equipment gets broken, the technician is responsible for repairing or replacing it.
Maintaining inventories and keeping records of what equipment the lab has at all times is another duty of the technician. This may involve ordering supplies as well as tracking and monitoring the lab's inventory expenses. If there is a budget for lab equipment, the research technician must often ensure that the purchases for the lab stay within the budgeted amount.
While most of the research technician's work is performed in a lab, sometimes he or she may be required to go out in the field to collect samples or materials. This often depends upon the type of research the technician specializes in. Since there are a wide variety of options, most technicians do decide to specialize. For example, a biological research technician will assist scientists who are studying living cells. This often involves medical research or forensic science research.
A research tech may also decide to specialize in chemical research. He or she will work with chemicals and related equipment. An agricultural research technician often works with animals, food, or fiber research. Finally, a food science research technician may work with quality control in the food industry. Some of these jobs may be risky; for example, chemical technicians may work with toxic chemicals, or biological technicians may work with cells that cause disease.
AS FEATURED ON:
AS FEATURED ON:
By: WavebreakMediaMicro

A research technician will have lab duties.

By: Darren Baker

Research technicians work in labs helping scientists by doing tasks like maintaining lab equipment or monitoring experiments.