What does a Science Teacher do?
A science teacher's job is teaching science to his students. A person who decides to become a science teacher may have many career options available to him. He may decide to work in an elementary or middle school to teach a range of subjects, including science. If he'd like to focus on a particular science subject, however, he may opt to teach high school instead. Some aspiring science teachers even choose to earn advanced degrees that allow them to pursue careers as college professors.
Science instructors teach important science concepts. They may cover such basic science subjects as biology, chemistry, physics, and earth science as well as a full range of other subjects. The subjects a science teacher covers may vary, depending on such factors as where he teaches and the age of the students he's instructing. Often, science instruction includes not only lecturing or the presentation of key concepts, but also hands-on work and experimentation.
An individual who wants to become a science teacher for elementary-aged students may find it necessary to teach other subjects in addition to science. This is because many elementary schools hire teachers to teach all the basic subjects in one classroom. In such a case, one teacher may instruct students not only in science, but also in math, history, language, and other subjects. Some middle school teachers, however, may find opportunities that allow them to teach science exclusively or at least focus on it.
At the high school level, science teachers usually have the opportunity to focus on their chosen subject. Typically, teachers at this level are required to earn bachelor's degrees in the subjects they want to teach in addition to teaching certifications. For example, a person who wants to become a biology teacher usually needs a biology degree to secure a job. This is in contrast to the usual degree requirements for those who wish to teach elementary or middle school. Often, lower-grade teachers begin with bachelor's degrees in education, minoring in science, or degrees in science, with minors in education.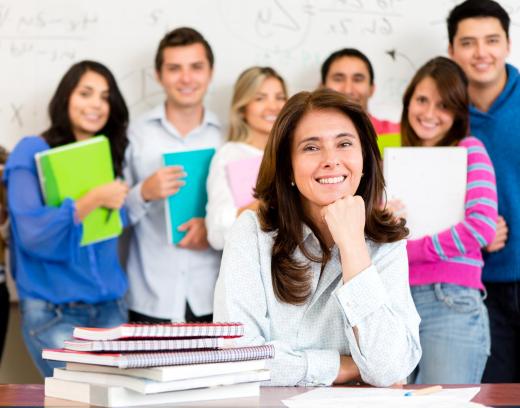 College science teachers usually need more advanced degrees to secure their positions. Typically, an individual who wants to become a full-time tenured science professor needs a doctoral degree in order to do so. Often, people who choose to teach at the college level have a wide range of subject choices, as colleges typically offer both basic and highly-specialized courses. For example, a college science professor may teach such basic sciences as biology, chemistry, and anatomy or more complex subjects such as microbiology, nuclear physics, or neuroscience.
AS FEATURED ON:
AS FEATURED ON:
By: Alexander Raths

College level physics, chemistry, and biology professors usually conduct research in addition to teaching.

By: Monkey Business

A science teacher for elementary-aged students may also teach other students.

By: Andres Rodriguez

High school science teachers are much more likely to have an advanced degree in science than those who teach at an elementary school level.

By: jolopes

An elementary science teacher may also offer support and encouragement to students.

By: Syda Productions

A science teacher is responsible for grading papers and tests.

By: levranii

Anatomy and physiology are some of the things a science teacher can teach a child.

By: nandyphotos

A college science professor may teach microbiology.