What does a Secretary do?
Secretaries can have a range of duties depending on their workplace, but in general they are in charge of keeping offices running smoothly by performing a mix of administrative and low-level management tasks. These professionals commonly answer telephones and e-mail correspondence and manage filing systems; they may also sort mail, organize meetings, and coordinate inter-office communications. In most cases, the work is considered "entry level," which means that no special skills or educational qualifications are required for success. Just the same, there is usually room for advancement. People with a lot of potential or experience often find themselves in the running for increasingly prestigious jobs with higher and higher pay.
Administrative assistant, clerk, and personal assistant jobs are usually included within this umbrella. All of these positions are administrative and all usually center on paperwork and electronic document management. One of the only exceptions is government-level or other official "secretaries," such as the Secretary of Defense or Secretary of the Treasury. Though these titles may suggest a purely low-level function, officials in these roles are generally quite high ranking and typically do little to no administrative or clerical work themselves.
Clerical Skills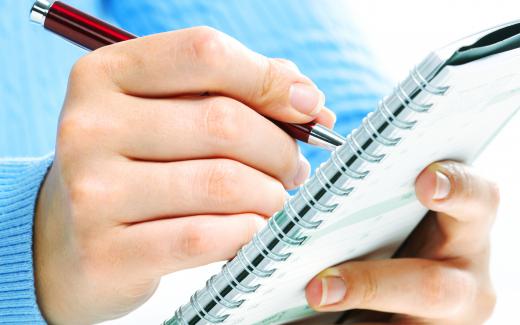 Office management is one of the most important secretarial tasks. This category of work can be somewhat broad, but almost always involves administrative and clerical duties. Secretaries commonly manage office paperwork, which includes sending and receiving mail, creating and organizing filing systems, and managing correspondence. In most settings, computer and word processing skills are essential.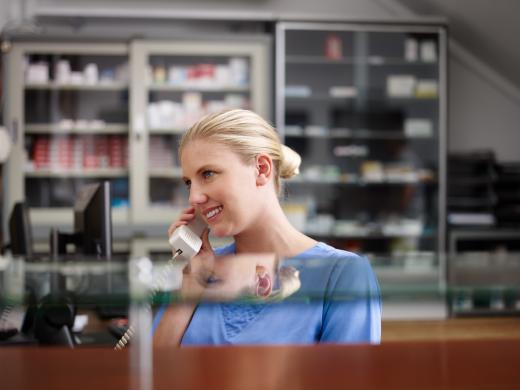 Answering telephone calls is also an important part of the job in most places. Secretaries are often the first people clients and customers will speak to when phoning a business. As such, good manners and a courteous demeanor are usually required. Professionals must typically show a great deal of tact when taking messages, placing callers on hold, or answering basic questions.
Scheduling and Calendaring
In many settings, administrative personnel are in charge of managing office calendars as well as individual employee calendars. They are often responsible for scheduling meetings and appointments and watching out for conflicts and double-bookings. This task is particularly pronounced in places like medical practices where patients are constantly calling for appointments, but can occur anywhere higher-level employees are "in demand." Even if it is just a matter of scheduling a lunch meeting or arranging dinner reservations, secretaries are usually some of the first people executives and managers turn to for help.
Management Duties
In addition to having clerical skills, administrative staff must be managers of time and people. They must anticipate the needs of office personnel, solve internal problems quickly, and work efficiently to coordinate and bring different people together. Excellent people skills are really important, particularly when it comes to managing executives and other important staff members. A lot of the job may be "behind the scenes" with secretaries anticipating their superiors' needs and demands before requests are even made.
Position in Staff Hierarchy
In most offices, secretaries are considered somewhat low-level and are almost always near the bottom of the office pecking order. They usually answer to both mid-level and senior management, and they must typically help everyone equally. Large businesses and offices often have entire secretarial pools, however, in which case something of a more nuanced hierarchy emerges. In these settings, some workers may be tasked with menial jobs like filing and answering phone calls, while others may manage schedules and interact with higher-ranking staff. Advancement in these offices usually depends on time and experience.
Some of the most prestigious work a secretary can get is in the realm of personal assistance. Many senior executives and corporate leaders have dedicated administrators whose whole work life is devoted to the care and management of one leader's schedule. This type of secretary must typically work long hours and deal with sometimes unpredictable demands and requests, but is often among the best paid and most respected of the profession.
Training and Schooling Requirements
Different employers have different requirements for how their secretaries are educated. In some cases, a high school diploma or equivalent is all that is needed, while in others, actual secretarial certifications or degrees are preferred. Community colleges and vocational schools frequently offer programs where interested students can learn the ins and outs of word processing and office management. Taking this sort of course is often a good idea even if it is not strictly required, as it can help an application stand out and can give new hires a leg up when it comes to experience.
Special Circumstances: Official and Government Secretaries
The term "secretary" may not always attach to an office administrator. In some cases, particularly those involving high-ranking government officials, the designation may be used in an honorary capacity to indicate management of a broad sector of affairs. Officials who head up departments or oversee major governmental divisions may use secretarial titles, but their jobs should not be confused with more common office management roles.
AS FEATURED ON:
AS FEATURED ON:
By: Kurhan

A secretary may be responsible for scheduling appointments.

By: diego cervo

A medical secretary would need to have a thorough understanding of medical terminology.

By: endostock

Personal secretaries usually work one-on-one with their boss.

By: Marcel Mooij

Answering phones is a common part of secretary work.