What does a Shop Foreman do?
A shop foreman is a lead supervisor at an automobile or industrial equipment repair garage. He or she oversees the work of mechanics and technicians, contracts with customers, and handles various administrative duties involved with operating a business. Most foremen are responsible for hiring and training new workers and providing regular performance reviews to ensure customers receive quality repair work. A shop foreman may own a small garage and provide services to the general public or work in a large commercial repair shop that specializes in maintaining heavy equipment and trucks.
In order to provide clear instructions to workers and effectively deal with customers, a shop foreman must possess excellent communication skills. He or she usually works alongside technicians to make sure they are performing quality repair jobs. When a difficult problem arises, workers typically contact the foreman to find out what to do. In addition, the shop foreman is responsible for enforcing safety procedures at all times to avoid accidental injuries and damage to automobiles.
It is common for customers to deal directly with the shop foreman to get quotes on repairs and understand what types of work are needed on their automobiles. Most shops have a large variety of replacement parts, tools, and paint on hand, though the foreman may need to place a custom order with a manufacturer if a part is out of stock. The foreman helps customers understand their options, so they can make informed decisions about what work they want performed and how much they should spend.
Shop foremen usually have offices at their garages to have a place to perform important administrative duties. Most professionals keep computerized and written records of customer accounts, inventory sheets, sales data, tax forms, and other important business information. Foremen also advertise job openings, hire new workers, and provide them with appropriate training. They conduct regular performance reviews to help workers improve their techniques and make ultimate decisions to fire employees who are unfit for the job.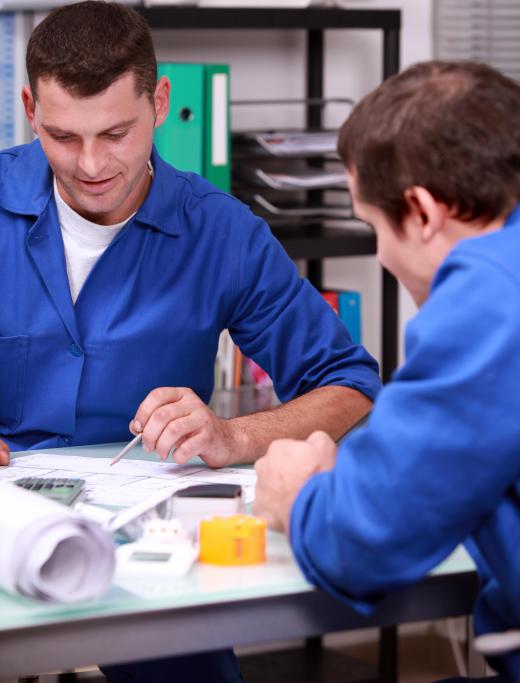 There are no set educational or training requirements to become a shop foreman, though some people pursue two-year degrees at technical schools to learn the fundamentals of repair work. Most professionals begin careers as automotive technicians and assistant mechanics, eventually advancing to the position after gaining several years of detailed experience. Obtaining voluntary certification from a respected organization, such as the National Institute for Automotive Service Excellence in the United States, can be very helpful in securing work as a shop foreman.
AS FEATURED ON:
AS FEATURED ON:
By: runzelkorn

Shop foremen are often responsible for hiring and training employees.

By: michaeljung

Good customer service is an important skill for shop foremen.

By: auremar

An aspiring shop foreman may pursue two-year degrees at technical schools to learn the fundamentals of repair work.

By: Diyanski

A shop foreman oversees the work of mechanics and technicians.