What Does a Sports Physiologist Do?
A sports physiologist studies the physical and physiological demands of sports, helping athletes optimize their performance and recovery. They use scientific knowledge and methods to guide training, nutrition, and injury prevention. Curious about how they could enhance your athletic performance?
Athletes often develop bad habits, just like anyone else, which means a sports physiologist may be necessary to help assess an athlete's performance and alter behaviors and habits to improve the athlete's physical movements. Unlike other types of exercise physiologists, the sports physiologist will generally work exclusively with athletes who participate regularly in sporting events, as the stresses on an athlete's body may be different than those on a hobbyist's body. These professionals often hold at least a bachelor's degree in physiology or a related field, and they are likely to undergo additional job training or apprenticeships.
The sports physiologist may also help develop a fitness plan for an athlete and may even help develop a diet that is appropriate for that athlete's regular activities. This means regularly analyzing the athlete's performance during training and competition, and making adjustments as necessary. The fitness plan will often vary significantly if the athlete becomes injured; the sports physiologist may then help develop a recovery plan that is intended to allow for fast healing of that injury, but also for reducing the amount of time taken to get the athlete back to the fitness level he or she was operating at before the injury.
This means the sports physiologist will have extensive training in biology, kinesiology, chemistry, and even nutrition. Most bachelor's degree programs will cover these topics and much more in preparation for the more intensive master's degree program. The physiologist will also need to obtain certification and training in CPR and first aid techniques. Basic life support training may also be required, though again, these qualifications can vary by region and industry. Sports medicine training might be required as well, and the physiologist may need to complete training provided by a specific sports organization if he or she chooses to work for one.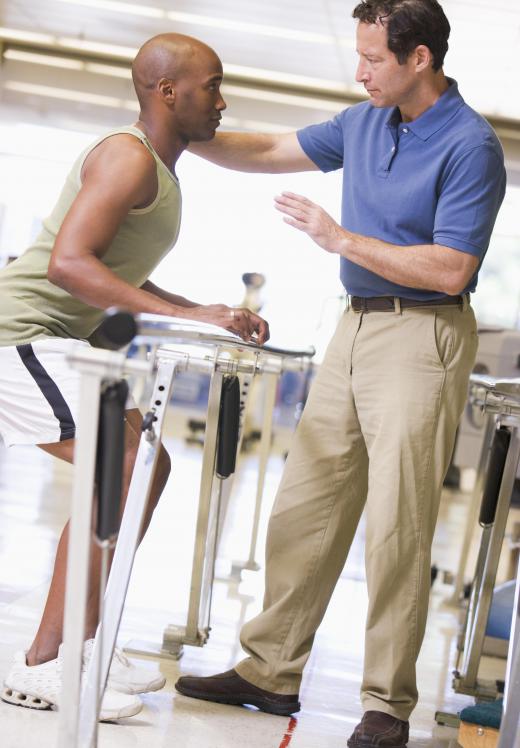 In many parts of the world, certain certifications are required in order for the sports physiologist to operate legally. These certifications can be earned while the physiologist is working toward a college degree, though many candidates wait until after graduation to earn the certifications. These credentials can vary by region, so the candidate will need to figure out which ones are appropriate and necessary. It is possible to begin a career as a sports physiologist after earning a bachelor's degree, though in many parts of the world, candidates are required to earn a master's degree after completion of an undergraduate degree in order to be qualified for a career in the field.
AS FEATURED ON:
AS FEATURED ON:
By: daviles

A sport physiologist must be certified in CPR.

By: Monkey Business

A sports physiologist may help develop a fitness plan for a professional athlete.

By: .shock

A sports physiologist may create a plan that facilitates fast recovery from an injury.

By: guerrieroale

Sports physiologists work with athletes from a range of disciplines.

By: Thomas Perkins

Sports physiologists should keep a body fluids barrier kit nearby at all times while they work.

By: Alison Bowden

Sports physiologists may help athletes with their recovery following an injury.

By: Tadija Savic

Sports physiologists may study the injuries that are incurred by participants in sports, such as boxing and martial arts, that mimic personal combat.

By: wellphoto

Some sports physiologists use massage and other hands-on techniques to help athletes recover from injuries.