What Does a Superior Court Judge Do?
The main job of any superior court judge is to preside over legal disputes and enter binding judgments after a full consideration of the facts, though what this looks like on a day to day basis can vary a lot from place to place and even from court to court. There is also usually a lot more to the job than simply sitting behind a bench and choosing a side in an argument. In most cases the job involves a lot of research and analysis into the issues being presented, and there's normally also a lot of paperwork and filing that have to be completely with accuracy and precision. In the event that a judge's opinion is appealed, he or she may have additional administrative duties to assist an appellate court in making a decision about a retrial. At least in the United States, judges of the superior court are normally elected by the public, so staging campaigns and re-election events are often part of the job, too, provided the judge wishes to stay in office.
Understanding the Superior Court System Broadly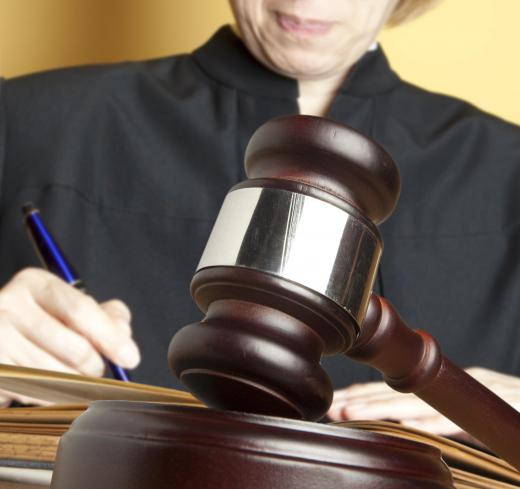 The idea of a "superior court" is usually limited to the United States, though some parts of Canada and Europe also use this terminology to describe their courts. In most cases, the name correlates to the court's place in the overarching hierarchy of the regional justice system. This hierarchy can be difficult to understand since many states use court names interchangeably to refer to courts of differing powers, and there isn't normally much universality when it comes to system structure. In Pennsylvania and Ohio, for instance, these courts are known as the Courts of Common Pleas. Michigan and Oregon have Circuit Courts while Louisiana and Hawaii have District Courts. New York has a Supreme Court. All 50 states and the District of Columbia carry a court that has the power to hear and decide any case which is not designated to be heard in some other courts. As a general matter, though, a superior court is usually thought of as a state court that hears cases of a serious nature, normally that involve significant sums of money or criminal charges.
Most states have split their superior courts system up into several different divisions in order to help ease the case loads. The states also divide their states up in different districts. Depending on the state's districts and subdivisions, each state's Superior Court system could house as few as a few dozen Superior Court judges to over 100 Superior Court judges. The Superior Court of New Jersey splits their courts up into three different divisions: Appellate, Law, and Chancery Divisions. Alaska has four separate divisions with a grand total of 40 judges presiding over the Alaskan Superior Court.
Universal Duties
The quintessential image of a judge for most people is a person in a black robe sitting behind a court room bench and hearing arguments, and judges working in the various superior courts aren't an exception. It could be said that their main role is to apply the best interpretation of the law to the facts of cases that are usually complicated, personal, and often emotional. The judge must usually remain detached and neutral, and must be able to make a decision based soundly in published precedent. He or she must write a detailed opinion explaining the underlying reasoning in most cases. These opinions are usually published and can become precedent for later cases that involve similar issues, provided they're not overturned on appeal.
Types of Cases Heard
Superior courts can entertain a wide array of claims, and the caseload of a given judge is usually determined by the state. In New York, for instance, the judges of the supreme court hear the lowest forms of cases, typically heard in smaller courts in most other states. North Carolina's senior resident on the superior court appoints people to fill the position in the clerk's office if the position becomes vacant. In rare circumstances, the senior resident may also form a three-judge panel for redistricting cases.
Delaware originally had the superior court hear civil cases, but since their judicial system reorganization in 1951 they can now hear criminal cases which were formerly preformed by the Court of General Sessions and Court of Oyer and Terminer. The Court of Oyer and Terminer is a commission which determines all treasons, felonies and misdemeanors. Once this was dissolved in 1951, the superior court judge began hearing the bulk of the criminal court cases. As in the majority of the United States, the superior court in Delaware has the power to examine misdeeds from justices of the peace, sheriffs, coroners, and clerks. Superior courts are also involved with delinquent tax cases in most places.
AS FEATURED ON:
AS FEATURED ON:
By: Andrey Burmakin

Superior court judges hear different cases depending on which state they're in.

By: Hugh O'Neill

Luxembourg has a Superior Court judge appointed by the Grand Duke.

By: JohnKwan

Most states have at least one superior court judge.

By: Junial Enterprises

Even though some states' judges do not carry the title "Superior Court," they are known under different names which carry the same powers.