What Does a Supply Engineer Do?
A supply engineer supervises the delivery of products and services to streamline them as much as possible. This is a form of process control, to keep processes efficient and timely to suit the needs of a company or agency. Several different types of jobs in this field are available, with their own requirements and job descriptions. This position should not be confused with a power supply engineer, an electrical engineering job that focuses on the design and implementation of power supplies for systems of various types.
One type of supply engineer works for manufacturers to source equipment. This can include products from chemical tanks for a fertilizer company to sewing machines for a garment manufacturer. The engineer prices out different equipment options, compares available products, and determines the most appropriate choices for the company's needs. It may be necessary to consider the possibility of future expansion when evaluating choices, and the engineer needs to think about long-term costs associated with maintenance as well as the initial investment required to buy the equipment.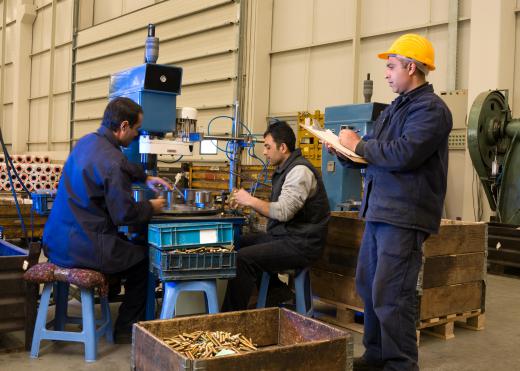 Supply engineers may also source routine supplies for manufacturing to keep the supply chain moving. When slowdowns occur, this can result in losses for the company, as it may need to shut down production or put products on back order. These engineers anticipate needs on the line, make sure raw materials are available, and source alternatives if they believe a problem may arise. This can include planning ahead for natural disasters, projected slowdowns in the supply of raw materials, and so forth.
Other positions may involve controlling supplies of natural resources. The most common example is that of a water supply engineer, who supports operations at a facility that delivers water to customers. These engineers need to estimate customer needs and available supplies and determine the best allocation to distribute water to customers. They may need to factor in the need to balance conflicting needs within the area served by their agency, and could be involved in planning for droughts and other shortages to keep water supplies stable.
Training and experience for this field can depend on the job. Some employers recruit from within their own team, relying on people familiar with their operations to source supplies. In other cases, formal education may be required, along with some experience in the field. A water supply engineer, for example, may need a degree in civil engineering.
AS FEATURED ON:
AS FEATURED ON:
By: uwimages

Supply engineers must ensure all employees have the tools and resources needed to do their jobs effectively.