What does a Syndicated Columnist do?
A syndicated columnist is a writer who produces regular short articles, typically on a specific theme or subject, and sells them to a service that distributes them for her. The distribution normally spans many publications. Newspaper syndicated services normally distribute the material over a wide geographic regions. Online syndication services typically provide feeds of the column to many Internet sites, including newspapers, magazines and blog sites.
Although a syndicated columnist is normally perceived to have started her column-writing career at a small local newspaper, this is not necessarily a prerequisite to syndication. Some columnists submit their work to individual newspapers and syndication services before being published anywhere else. If a newspaper or service decides to publish the column and it is well received, that is often the key to the columnist's success.
Bloggers sometimes become syndicated columnists through the Internet. A writer may write a blog for a Web site that an online newspaper or magazine decides to publish. In this case, a blogger may have to edit their work, as columnists are traditionally limited to 600 words, a relatively low word count for a blogger. Groups known as print syndicates will distribute a writer's column for a fee. Other sites offer free feeds to regularly updated online publications.
For many years, both syndicated and independent columnists were traditionally humorists. Today's newspapers, both hard and soft versions, often publish daily columns that have strong political views about politics or popular worldwide topics. These opinion pieces traditionally were occasional columns expressing the views of the publication's editor.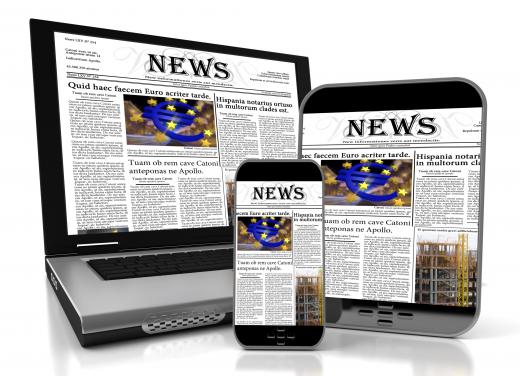 Other popular syndicated newspaper columns have provided advice for the lovelorn and guidance on etiquette and social behavior. A few writers have gained notoriety through writing gossip columns about celebrities and socialites. Money, economics and sports have also been successful topics for some syndicated columnists. Magazine columnists generally write about subjects related to the theme of the publication.
Many syndicated columnists attribute their success to being particularly knowledgeable about a particular topic. Others credit their popularity to being fairly obsessive about a particular point of view that their writing reflects in a way the public finds amusing or interesting. A particular point of view, stated with ardor, often seems to be the key to being a successful syndicated columnist.
No formal education or high school diploma is necessary to become a syndicated columnist. A good command of language and superb, engaging writing skills are commonly required. Consistency in thought and opinion generally builds a strong following and typically contributes to the success of a person in this profession.
AS FEATURED ON:
AS FEATURED ON:
By: Berna Şafoğlu

Magazine columnists usually write about subjects related to the theme of the magazine.

By: spinetta

Syndicated columnists are often printed in many newspapers.

By: Frank Boston

A writer may write a blog for a Web site that an online newspaper or magazine decides to publish.

By: Andres Rodriguez

Some syndicated columnists focus on gossip and sensational news.

By: George Dolgikh

Syndicated columnists often share their opinions on a blog.

By: michaeljung

Syndicated columnists often focus on specific trends or topics.

By: rodjulian

Columnists may give advice on ways to meet new romantic partners.