What Does a Transportation Broker Do?
A transportation broker, also called a freight broker, directs the logistics of freight movement from the point of origin to the final destination. Through the use of land, air, and sea carriers, the broker searches out and arranges the most efficient methods for moving goods. It is not necessary for a transportation broker to actually see the goods to be moved. As long as he or she has a full description of what is being moved, the job can be done.
Many regions require a transportation broker to be licensed by government transportation agencies. Some regions also require the broker to maintain surety bonds or liability insurance. The insurance protects the broker from liability for damaged, lost, or stolen freight.
The broker must evaluate which transportation methods are best for a shipment. This may mean putting the shipment on a truck and letting it go, or scheduling a series of transportation methods including trucks, trains, and ships. Once the best methods are chosen, scheduling begins.
Scheduling is a primary duty of a transportation broker. Pick-up and drop-off times must be coordinated. For example, if the shipment is going to start off on a truck and then be transferred to a train for the rest of the trip, the broker is expected to coordinate schedules so the goods are not left in limbo between leaving the truck and being placed on the train.
The broker uses a computer to track each stage of the shipment process. Shipment tracking helps ensures that the goods do not get lost. Any issues that arise are handled by the broker, who is typically on call during evenings and weekends if problems come up.
Prospecting for clients is another duty handled by a transportation broker. Researching potential clients, contacting them, and securing a contract for their transportation needs provides the broker with future work. Web sites, business organizations, and networking are commonly used marketing methods to grow a transportation broker business. In addition, brokers may perform some market research as part of the effort to expand their business.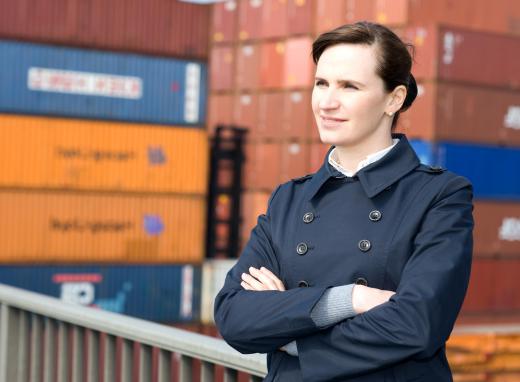 Financial duties of a transportation broker include preparing financial reports, spreadsheets, and insurance claims. Shipment rates are also typically set by the broker. Financial budgets are prepared by the broker as he or she adjusts the client base.
Most companies require their transportation broker to have a minimum of a high school diploma. A broker who opens an independent business is not required to have a specific education, other than any required government certifications. The broker may work independently or may supervise a staff.
AS FEATURED ON:
AS FEATURED ON:
By: alexskopje

Transportation brokers handle the logistics of getting freight from the point of origin to the point of destination.

By: Photographee.eu

Shipment tracking helps ensures that the goods do not get lost.

By: Shestakoff

Prospecting for clients is another duty handled by a transportation broker.

By: Photographee.eu

A freight broker assesses the type of goods that must be shipped and identifies shipping firms that can handle the shipment in a way that satisfies the needs of the recipient.