What Does a Wedding Cinematographer Do?
A wedding cinematographer films weddings and the other events that surround such momentous occasions. Often, this person will direct the bride, groom, family members, members of the wedding party and other invited guests in such ways as to create particularly memorable scenes for the new couple's wedding video. Beyond simply operating professional video equipment, a wedding cinematographer may also position effect lighting and audio to accompany wedding scenes. In order to do so, one must also be adept at operating lighting and audio equipment.
Specific duties of a wedding cinematographer include operating one or more professional video cameras and directing any additional production staff. Wedding cinematographers also edit wedding videos to deliver a quality keepsake for brides and grooms. From beginning to end, a good wedding cinematographer supervises the process of documenting weddings on film.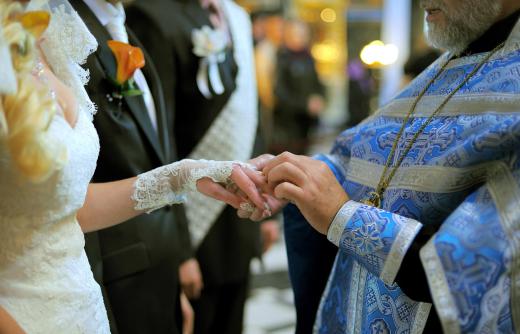 It is not uncommon for a wedding cinematographer to actually begin filming couples prior to their big day. Many people hire cinematographers to document events leading up to their wedding day, such as sunset walks at the beach, time spent at amusement parks and other romantic times spent together while engaged to marry. Such video footage is not only a keepsake, but is also frequently shown to guests during a wedding reception or may be displayed on a website dedicated to the bride and groom.
On the actual wedding day, in addition to filming the ceremony, a wedding cinematographer may attempt to film guests offering the couple kind wishes. This is often accomplished by approaching guests just before or during a reception, or a wedding cinematographer may designate a staged area created specifically for such filming. It is also not unusual for a cinematographer to assign one trained staff person to film stationary events, such as personal greetings, while another cinematographer films more impromptu events in the reception area.
Professional cinematographers are experienced in using lighting in such a way so as to accentuate the subjects and scenery they are filming. Such lighting may be natural or artificial, but can help create a more visually appealing product. These individuals also select sound effects and music to accompany the final product.
In addition to filming weddings and receptions, a wedding cinematographer may specialize in wedding photography. Companies that are dedicated to documenting weddings often offer each of these services separately. Although most professionals are able to do both, many prefer to focus primarily on wedding cinematography.
AS FEATURED ON:
AS FEATURED ON:
By: photographmd

A wedding cinematographer may film the ceremony.

By: Michael Ireland

A wedding cinematographer may document events leading up to the wedding, in addition to the wedding day itself.

By: Haider Y. Abdulla

A wedding cinematographer should be able to film the ceremony without being a distraction to guests.