What Does an Aircraft Assembler Do?
An aircraft assembler is a person who fabricates parts or installs those parts onto an aircraft in production. Several types of jobs exist under the general category of aircraft assembler, and very often an employee will be assigned to a specific task in the assembly process according to his or her training, skills, and education. Assemblers generally do not need a high level of education, and many positions can be obtained after earning a high school diploma. Basic math skills and communication skills are necessary, however, and the assembler will need to undergo job training in order to work in this field.
Part of the process of assembling aircraft involves fabricating parts. An aircraft assembler may work with a variety of fabrication machines to create the parts necessary to properly assemble various aircraft. Computer numeric control (CNC) machines are likely to be used for the fabrication process, and the aircraft assembler will need to be trained to use such machines. It may also be necessary for the assembler to be trained in computer-aided design (CAD) as well as in blueprint or schematic reading. These skills can be learned on the job through a training program or apprenticeship, which is a program that allows a new employee to develop the necessary skills while still earning a wage.
Other aircraft assembler positions may not have to do with the fabrication process, but instead with the installation process. Aircraft mechanics, for example, may work exclusively with aircraft engines to create a working propulsion device for getting the aircraft off the ground. Assemblers may be responsible for creating the shell of the aircraft, which usually involves welding, riveting, or otherwise securing metal panels or fiberglass parts that were fabricated specially for a particular aircraft.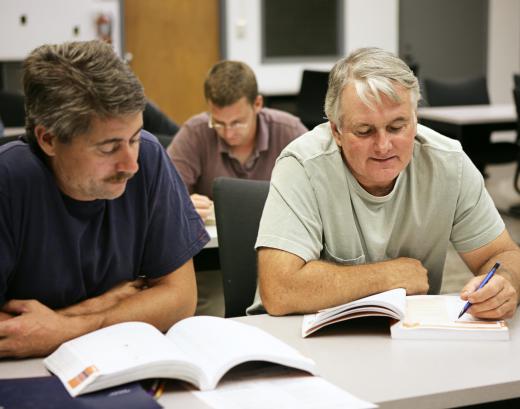 All aircraft assembler positions will require the job candidate to undergo safety training. This training is designed to ensure the employee is safe during the assembly procedures, as well as all other employees or bystanders present during the assembly process. The assembler must wear all appropriate safety equipment, including eye and ear protection, and in many cases a hard hat. Any machinists must be trained in the proper use and maintenance of assembly or fabrication machines, and almost all employees will be trained how to shut off the machines in an emergency. Safety training is likely to be conducted numerous times throughout the assembler's career to ensure all employees are up to date.
AS FEATURED ON:
AS FEATURED ON:
By: christian42

Aircraft mechanics may work exclusively with airplane engines.

By: Lisa F. Young

Aircraft assemblers typically do not need a high level of education.

By: chirnoagarazvan

An aircraft assembler may need to be skilled in cutting and welding with an oxyacetylene torch in order to fabricate necessary parts.

By: Photographee.eu

Aircraft assemblers should wear hard hats to protect their head against a severe fall.