What does an Area Supervisor do?
Area supervisors can work in a number industries and can have a very wide-ranging roster of duties, but in general, these sorts of professionals do three core things: they manage sites and specific projects, they manage people, and they handle administrative tasks like budgeting and payroll. Some of the key responsibilities most often associated with the position are providing leadership to a team of workers, organizing schedules, and making sure the work is accomplished as planned. People with this position are often expected to have good communication skills and to work in accordance with the goals and values of the employer.
Different Understandings of the Job
The term "area supervisor" is typically used to describe a job that has a number of both managerial and oversight duties. It's often most common in the construction context, and this sort of supervisor is often in charge of an entire project — often one spanning several different physical buildings or structures. This person will work very closely with the individual site supervisors who are overseeing the projects individually.
Factories and warehouses often have people with this title, too, usually to serve as liaisons between floor workers and upper management. Supervisors can also be employed at government organizations, retail stores, transportation companies, and in many other fields. Basically any business or corporation with multiple regions, divisions, or marketing areas can have a supervisor with this title.
Physical Presence and Site Management
Depending on the type of work the company does, an area supervisor may be expected to perform physical labor. At a manufacturing plant, for instance, this sort of professional may be exposed to very high temperatures and humidity levels, toxic chemicals and fumes, or work near explosives. An individual in this field can be required to climb stairs and ladders, work on uneven platforms, and sometimes lift heavy objects. He or she may also need safety equipment, such as safety goggles, special footwear, a construction helmet, gloves, and other protective clothing.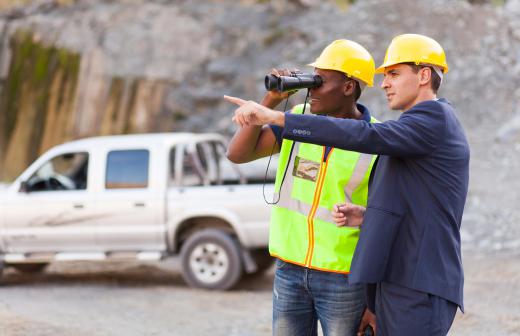 Even in places like government offices and retail stores, presence is important. The supervisor may not be lifting and carrying things in these jobs, but he or she is usually expected to be present regularly, and must also have a working knowledge of the space and the people employed. Knowing how things ordinarily progress is usually very important.
Management Duties
Supervisors often spend a lot of time managing people and projects. These sorts of tasks may include supervising, coordinating, and controlling the safety of a work area. A person in this job must also inspect and evaluate work progress, coordinate activities, and communicate with all levels of management. Since these professionals often work with a lot of different people, they are typically responsible for maintaining team unity and individual performance.
This sort of professional might also be responsible for hiring new staff and providing proper training and advice when needed. Administering the company or organization's policies, inspecting safety standards, identifying problems and proposing solutions usually also come within this person's responsibilities.
Administrative Tasks
Supervisors may be asked to manage his departmental budget. This can include calculating finances, monitoring all daily expenses, and making sure that money is not being wasted. Although costs should be closely monitored, most organizations require that safety standards be maintained and that all necessary supplies are abundant and readily available.
Getting Started in this Job
A high school diploma or its equivalent is usually required for this position, although some companies may also prefer to hire people who have completed some form of higher education. Most employers seek supervisors with leadership training, but experience in the specific field is also taken into account. It's also important to keep in mind that most area supervisors are promoted into their positions from lower-level jobs. The position carries a lot of seniority and responsibility in most cases, which can make it challenging to jump into right away. People more often work their way up.
AS FEATURED ON:
AS FEATURED ON:
By: khunaspix

An area supervisor may need safety equipment, such as a construction helmet.

By: uwimages

The job-related duties of a supervisor include maintaining quality standards.

By: .shock

Some area supervisors are employed in factory and other industrial settings.

By: michaeljung

The people-oriented duties of an area supervisor can include supervising, coordinating and controlling safety and evaluating work progress.