What does an Assembler do?
An assembler, also called a fabricator, puts together the parts of manufactured products. The job is common in automobile, aircraft, computer and electronic component industries, but it is also found in other manufacturing environments that produce components, parts or assemblies containing them. These businesses often include the assembly of machinery, fabricated metal products, electrical equipment and appliances.
Reading blueprints and schematics is a regular part of an assembler's job. She uses machinery or hand tools to perform her job or sometimes a combination of the two. The work is often repetitive and always requires attention to detail to guarantee uniformity and quality in the finished product.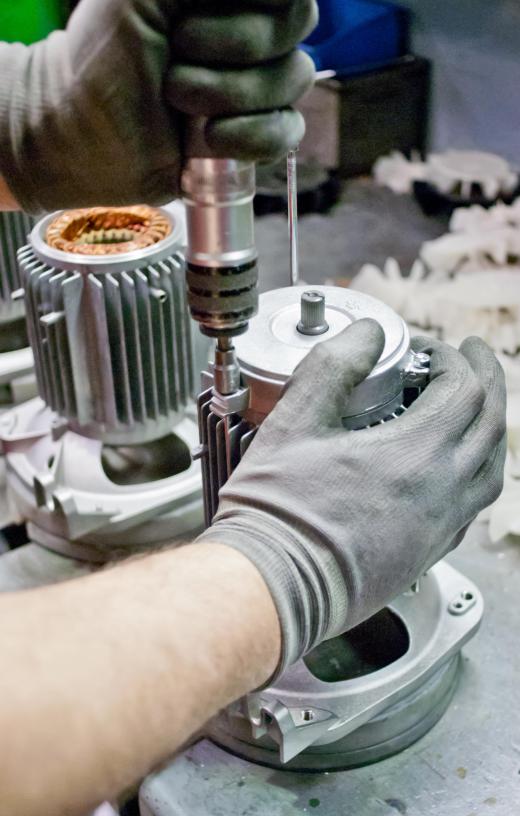 In the past, an assembler almost always worked on an assembly line. In recent years, the trend in assembly operations has moved away from the line-production environment. Today, the bulk of fabricating and assembly work is performed by a team of workers and creates an entire product or several related components. The team members rotate their jobs. This is widely perceived as an effective tool to combat boredom and workplace burnout while increasing quality production.
Some assembler jobs involve operating machinery. Others only require the assembler to use her hands to attach a part or a fastener to a component. In some high-technology manufacturing environments, the assembler performs her job with the aid of a computerized machine to measure tolerance levels and assure quality and conformance.
In addition to her assembly duties, the person in this position is required to keep herself informed of changes in workplace and operational policies and procedures. She may also be required to operate pallet jacks or forklifts to bring raw materials to her work area. Logs and records regarding production, machine maintenance and product inconsistencies also regularly require updates by the worker.
Assemblers are normally expected to help maintain and repair the equipment they use. This familiarity with equipment helps them spot equipment failure before it affects a large part of the assembly process. It also aids the assembler in teaching the processes to new employees and in fixing equipment in the event the plant mechanic or machinist is unavailable.
Most training for assembly work takes place on the job, and assemblers are normally required to have a high school diploma or equivalent. An assembler must also have basic math, writing and reading skills. Manual dexterity and the ability to produce quality work over a long period of time each day is necessary. Good hand-eye coordination to aid in being able to produce products quickly and without errors.
AS FEATURED ON:
AS FEATURED ON:
By: gmg9130

A fabricator is responsible for connecting various parts together to form a strong structure.

By: gmg9130

Assemblers often work on assembly lines.

By: doble.d

Some assemblers perform work on-site.

By: endostock

Assemblers may be required to handle pallet jacks.

An electrical assembler may install electrical systems in missiles.

By: Photographee.eu

An assembler may use pneumatic tools such as riveters and screwdrivers to build components in a short amount of time.