What Does an Associate Attorney Do?
An associate attorney handles the same tasks as other attorneys, ranging from researching legal information and writing legal briefs to advising clients and arguing cases in court. This type of attorney is not, however, a partner in a law firm. This essentially means he works for the law firm as an employee but does not have any ownership in the firm. Usually, an associate is considered a lower-level attorney and does not earn as much for his legal services as the partners in the firm. Additionally, he may not receive the most high-profile or desirable cases.
Often, attorneys who are considered on the associate level have less experience than others. Some associate attorneys have recently graduated from law school and just begun their legal careers; in general, associates have less than about five to eight years of experience as lawyers. While an associate attorney may not earn as much as a partner, the time he spends as an associate allows him to gain experience and learn from more experienced attorneys. He may also develop important contacts and get experience attracting clients for the law firm during his time as an associate.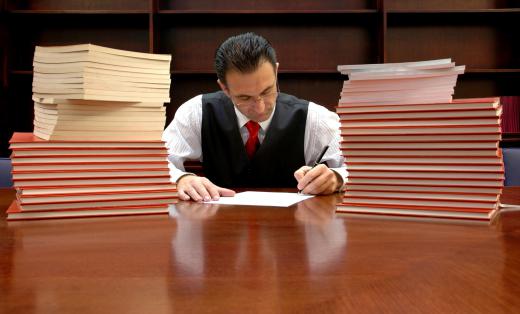 In most cases, an associate attorney does the same things other attorneys do. Among the tasks this type of lawyer may perform are legal research and preparation of legal documents, and he likely will have filing duties and be required to advise clients both in person and over the phone. An associate attorney usually meets with colleagues as well, including those who work for the same law firm and those who do not. He negotiates on behalf of the firm, participates in jury selection, and argues cases in court. Additionally, he may spend a good deal of time analyzing laws and coming up with strategies for upcoming cases.
Often, an associate attorney doesn't start out with a lot of responsibility at first. Instead, he typically starts out by assisting with cases and learning under the supervision of a more senior attorney. With time and experience, he may gradually take on more responsibility, obtain his own clients, and have the opportunity to work as the lead attorney on trial cases. He may also also work up to earning more money and eventually have the opportunity to become a partner in the law firm. Usually, however, a person is not guaranteed to become a partner, no matter how many years of experience he has with a firm.
AS FEATURED ON:
AS FEATURED ON:
By: Corgarashu

An associate attorney researches legal information, writes legal briefs, advises clients and argues cases in court.