What does an Automotive Service Manager do?
An automotive service manager works in the repair department of a car sales dealership. Reporting to a general manager while overseeing garage staff and equipment is a common workplace situation for vehicle service managers. Communicating with customers and solving problems are other main responsibilities.
Service managers must ensure that customers are satisfied. In the case of car repair managers, providing service that's highly appreciated by customers can be challenging, since negotiations about costs and completion deadlines may be heated at times. Sometimes, automotive repair customers disagree with charges for labor or parts, as well as the amount of time their vehicle takes to be repaired. The automotive service manager must keep a friendly tone while working with the customer to create a positive outcome.
In their communications with customers, automotive service managers represent mechanics' work. They must oversee their staff of mechanics to ensure that quality repairs are being carried out according to company policies. Monitoring mechanics' labor times as well as the inventory of vehicle parts is an ongoing responsibility of the automotive service manager. Weaknesses in these two areas can affect customer service in labor costs on repair bills and time spent waiting for parts. Automotive service managers hire, train and fire staff.
A car repair service manager may appoint a mechanic to be a front line supervisor. Front line supervisors perform similar tasks as the other workers, but they have the additional responsibilities of supervising the others while assisting the manager. Since many automotive repair managers must travel to industry events or meetings with car factory representatives at the head office, they need to have a trusted supervisor in place to run the shop for a day or more in their absence.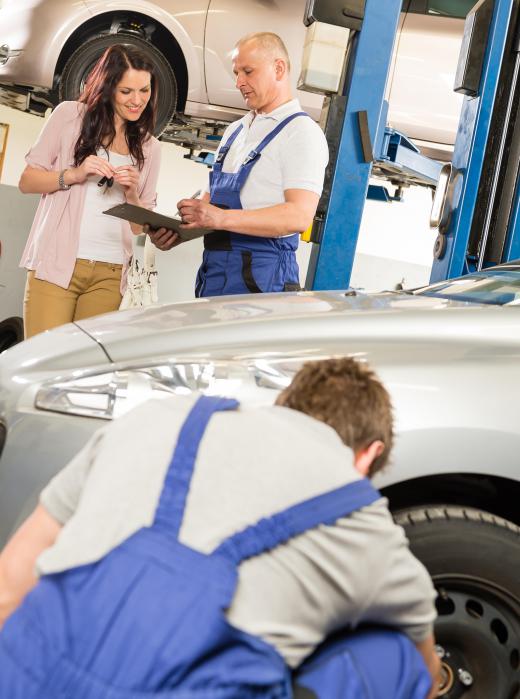 In addition to leadership experience, vehicle repair managers may also need some type of industry certification, depending on the location of the car repair dealer. Typically, an automotive service manager has up to five years of experience in the industry as a supervisor. Being able to lead an efficient team is one of the most important skills an automotive manager uses daily, as teamwork is essential in car repair. For example, one vehicle brought in for repair may need a few different mechanics working on it, such as a brake specialist and a front-end mechanic. Front-end mechanics specialize in vehicle suspension and steering.
Automotive service managers are responsible for maintaining safety procedures in the garage that comply with company policies as well as local, regional and national laws. For instance, car maintenance waste fluids that may be harmful to the environment, such as the old fluid from an oil change, must be disposed of properly. The automotive service manager is responsible for maintaining the integrity of the repair department.
AS FEATURED ON:
AS FEATURED ON:
By: uwimages

An automotive service manager makes sure used oil is disposed of properly.

By: runzelkorn

Automotive service managers are often responsible for hiring and training employees.

By: CandyBox Images

Automotive service managers often communicate mechanical issues to customers.

By: Anna Baburkina

Automotive service managers may specialize in collision repair.

By: Dmitry Vereshchagin

Automotive service managers typically work in the repair department of a car dealership.

By: auremar

An automotive service manager must keep an inventory of vehicle parts.

By: Diyanski

Automotive service managers must ensure that quality repairs are being carried out according to company policies.