What Does an EDI Specialist Do?
An EDI Specialist manages electronic data interchange systems, ensuring seamless data transmission between businesses. They set up, troubleshoot, and optimize EDI applications, enhancing efficiency and accuracy in business transactions. Curious about how this role is evolving with technological advancements?
EDI is an acronym for electronic data exchange, and an EDI specialist ensures that a business is able to perform business transactions with other companies using electronic channels. The duties generally include analyzing the company's needs, designing and developing a system or enhancing the current system, and monitoring the electronic transactions daily. Although most companies require an applicant to have at least a bachelor's degree and experience, sometimes a person can get an entry-level job with less education.
E-commerce, or the act of doing business in a virtual marketplace, is accomplished through computer-to-computer transactions. EDI specialists enable computers with different operating systems or different merchandising software to work together. This may be business-to-business (B2B), business-to-consumer (B2C), or even internal business transactions. Each of these types of transactions has special problems that a specialist needs to prevent or remedy. For example, usually a company that deals with government transactions has special constraints and often needs special security restrictions.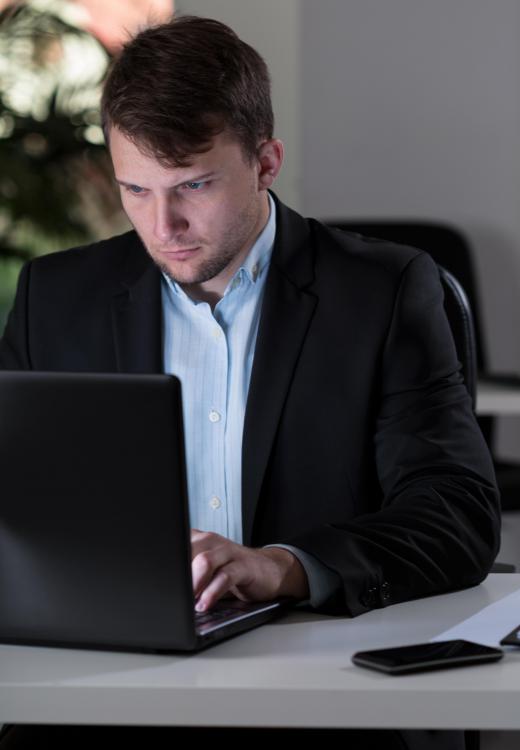 Many companies use EDI to directly access vendors' databases and their ordering systems. This complicated method of doing business requires an EDI specialist to keep the system flowing smoothly. E-procurement, or the Internet-based automation of accessing goods, may increase security risks for a company, and an EDI professional can reduce this risk. Reducing the risks of system glitches and reacting quickly to resolve issues are the core tasks of an EDI specialist.
Generally, other tasks that a new company expects an EDI specialist to do include designing and developing a system that will allow transactions and information exchange with customers and vendors. This exchange of secure information often involves catalog transactions, such as viewing catalog items, placing orders, and receiving payments. Catalog ordering may be B2B or B2C based. Other responsibilities often are setting up systems for new trading partners and updating and enhancing interactions with existing trading partners.
A specialist uses EDI mapping tools and cross-reference tables to keep accurate records of all transactions. Many software companies offer EDI programs that may help a specialist. Often less experienced entry-level EDI analysts monitor the daily electronic exchange of information and alert the senior-level specialist when problems arise. This entry-level job normally requires less education and less experience and is a good way for a person to break into an EDI career. Whereas a senior EDI specialist may need a minimum of a master's degree, an entry-level employee may have a bachelor's degree or less.
AS FEATURED ON:
AS FEATURED ON:
By: Photographee.eu

An EDI specialist ensures that a business is able to perform business transactions with other companies using electronic channels.