What Does an Electronic Warfare Officer Do?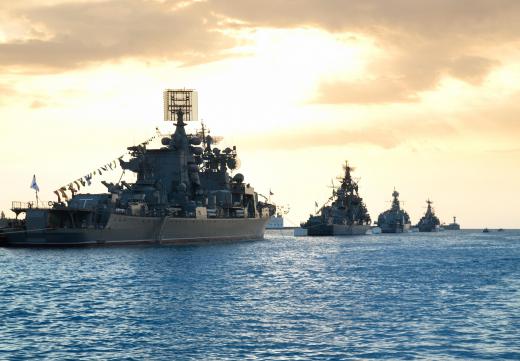 An electronic warfare officer (EWO) may have a variety of duties that depend on the military branch and country of service. The exact job title also has variances. Generally, electronic warfare covers measures and countermeasures used in weapons and support systems including radar, radio, laser, electro-optical, and ultraviolet technology. These systems are in use during both times of war and peace. The technology can be employed for air, ground, and sea operations.
The duties of an electronic warfare officer can cover surveillance and reconnaissance as well as intelligence-gathering. Personnel may work with jamming devices that are designed to block or counter radio signals sent from cell phones and other devices. At the same time, they must ensure that desired signals are not impeded. The EWO can be responsible for the operation of radio-controlled devices, including robots used to diffuse improvised explosive devices (IEDs).
The U.S. Army has an entire electronic warfare (EW) division. This special department includes enlisted personnel and officers. In this particular branch of the military, an electronic warfare officer may be responsible for the development and testing of equipment used by soldiers in the field. The U.S. Army's EW division began in late 2010. Prior to that time, the Army made use of U.S. Navy and Air Force personnel to complete this work.
In the United States Navy, the position of electronic warfare officer may also be called surface warfare officer (SWO). An officer position, in itself, can involve directing personnel and operations involved in aircraft carriers, destroyers, and other warfare ships. Responsibilities may include maintaining engineering systems, electronics, and weaponry. Highly-skilled SWOs may advance to the position of engineering duty officer (EDO), or even eventually command their own ships.
The American Marine Corps has a similar position for entry-level intelligence officers. During initial training, officers may study air intelligence, signals, and human source or ground programs. The signals portion of training typically includes electronic warfare. The title of Marine Air Ground Task Force (MAGTF) intelligence officer is given to those who have achieved the rank of Major.
In the Royal Air Force (RAF) of the United Kingdom (UK), this position is called an OEMO, or overseas officer of electronic warfare. The RAF training program is open to officers at an international level. It includes studies of jamming and detection of radio and radar signals, as well as protective measures. Upon completion, students should be versed in defensive and offensive electronic warfare, and be capable of commanding units engaged in these operations.
Requirements for most U.S. officer positions include a four-year degree from an approved university or college, or equivalent military education. In addition, age and citizenship requirements must be met. In the Navy, for example, the minimum age is 19 years and U.S. citizenship is mandatory. An electronic warfare officer is also usually required to obtain a high security clearance.
By: Pavlo Vakhrushev

Electronic warfare officers onboard a naval vessel may be responsible for jamming enemy sea or shore-based radar signals.

By: Official U.S. Navy Page

Royal Air Force OEMO training includes studies of jamming and detection of radio and radar signals, as well as protective measures.