What Does an Emergency Room Technician Do?
In the United States, an emergency room technician (ERT) is a healthcare worker who assists with patient care in a hospital's emergency room. An ERT works under the supervision of doctors and registered nurses. He may be responsible for performing tests on emergency room patients, setting up diagnostic machines and preparing patients for exams. Some ERTs are students working to become doctors or nurses. Others continue medical training to become paramedics or emergency medical technicians.
A person can pursue medical certification to become qualified as an emergency room technician and usually receives on-the-job training at a hospital. Specific requirements for ERTs vary depending on the hospital and location. Generally, a high school education or GED is required for this position, along with certified nursing or certified medical assistant training. These certificate programs can usually be found at a community, junior or vocational college. Online programs are also available.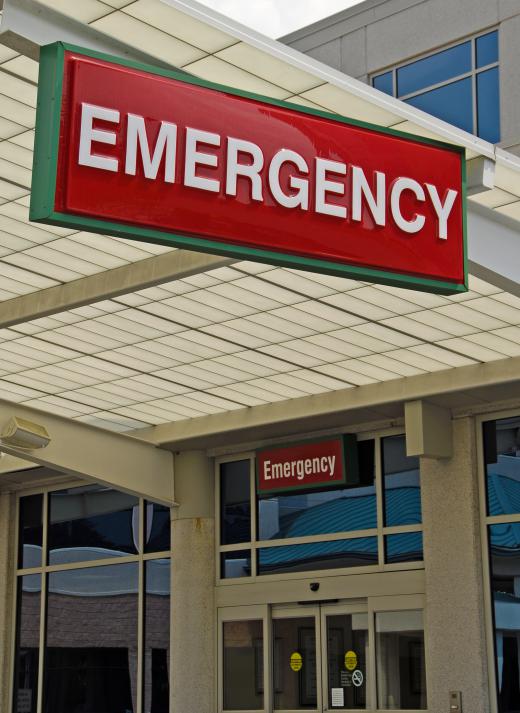 Along with training, ERTs need the ability to work as a team with the rest of the emergency room staff. Compassion and physical and mental toughness are important attributes for working in this stressful environment. ERTs often play an important role in keeping patients relaxed and comfortable during an emergency room visit.
An emergency room technician will usually be trained in a number of medical procedures. He may draw blood for tests, maintain intravenous (IV) lines, monitor a patient's vital signs and set up and maintain emergency room equipment. ERTs are also trained for emergency medical situations in which they may assist the medical team in performing cardiopulmonary resuscitation (CPR) or emergency surgery. All ERTs should be trained in CPR, and most training programs require CPR certification.
An ERT must be prepared to work both day and night shifts at a hospital, because most emergency rooms are open 24 hours a day, seven days a week, and schedules tend to vary. He must also be able to deal with patients who have suffered severe physical trauma and handle distressed patients and their families. Working as an emergency room technician is a stressful experience, though the right person also will find it rewarding.
ERT training sometimes qualifies a person for work as a certified nursing assistant and in other positions in the medical field. Many ERTs use the position as a stepping stone to more lucrative medical careers. After all, it provides valuable on-the-job training and experience not always found in a textbook.
AS FEATURED ON:
AS FEATURED ON:
By: EyeMark

Emergency departments employ emergency room technicians.

By: stefanolunardi

Working as an emergency room technician can be very stressful.

By: Tyler Olson

Some emergency room technicians may become EMTs.

By: Tyler Olson

An emergency room technician is usually trained in a number of medical procedures.