What does an Environmental Services Director do?
An environmental services director enacts and enforces policies regarding health and safety. Directors can work in many different settings, and specific job duties are unique in each position. An environmental services director might work for a hospital, an assisted living facility, an industrial plant, or a city development agency, for example. The main focus in any place of employment is to ensure that residents, employees, and the local environment are kept safe from potential hazards. Professionals perform regular evaluations about the effectiveness of their policies as well as oversee general operations in their departments.
In a hospital, nursing home, or another health-care setting, the environmental services director is responsible for making sure sanitation standards are met. He or she ensures that patient rooms and medical equipment are properly sterilized. The director might observe workers to see if they are wearing the proper clothing, including gloves and masks, when dealing with infectious patients or contaminated equipment. Other tasks may include making sure bio-hazardous waste is disposed of according to legal regulations and that employees undergo periodic environmental compliance training.
Directors at factories, power plants, mines, and other industrial facilities enforce strict environmental safety policies. They enact regulations that govern proper handling and disposal of hazardous materials, for example. Employees who test air, soil, water, and biological samples outside of facilities present their findings to directors. If violations are discovered, they consider different ways of remedying problems. A director might, for example, suggest that a company adopt more environmentally friendly production methods or hold training seminars for workers to help them improve safety practices.
An environmental services director may also be part of a city planning and maintenance program. He or she oversees local industrial practices, new building and housing construction, and other activities that may have negative impacts on the environment. The director provides expert advice to other departments about ways they can efficiently plan and execute urban development projects with environmental health in mind. If a certain enterprise is not complying with standards, the director may impose fines or hold meetings to discuss better ways of carrying out a project with development teams.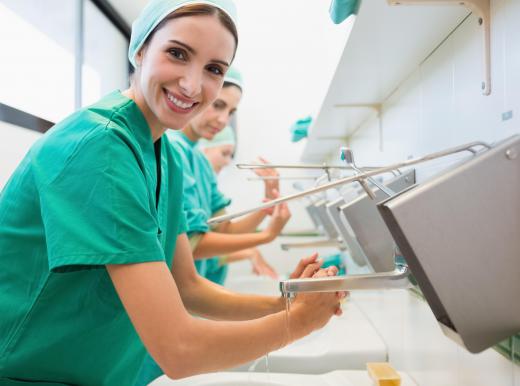 The requirements to become an environmental services director can vary greatly. Most professionals hold bachelor's degrees or higher in a field related to their places of employment, such as hospital administration, environmental management, or city planning. Most workers gain several years of experience in entry-level jobs before advancing to director positions.
AS FEATURED ON:
AS FEATURED ON:
By: Cheryl Casey

An environmental services director may oversee new housing construction.

By: Photographee.eu

An environmental services director may work for an assisted living facility.

By: WavebreakmediaMicro

A hospital's environmental services director is tasked with ensuring all hygiene and sanitation procedures are followed.