What does an Executive Officer do?
An executive officer is frequently referred to as a CEO and he or she is the highest-ranking manager in a corporation. He or she is in charge of growth, financial operations, and goal setting for an organization. This individual also acts as the face of the company for many public relations opportunities. This job demands that he or she take responsibility for the ups and downs of a business. This official must choose lower-level managers to run various departments in the company and often answers to a board of directors.
The primary duty of the executive officer is to steer the direction of the company. This means approving and sometimes creating various policies that encourage growth. Approving the operating budget and being intimately familiar with all financial aspects of the company is also important for this job. The executive officer also looks toward the future and helps create organizational goals and objectives for the company to aspire to.
Being in the public eye is often an important aspect of working as an executive officer. This officer frequently sits down for interviews with the media, publicly answer questions about the business, and promotes new initiatives. An executive is also asked to appear on company promotional materials and in-house periodicals to act as the face of the company. Attending public and business-related events as a representative of the company is another frequent duty of this post.
Another aspect of the executive role is taking responsibility for the company's successes and failures. Some of the main advantages and disadvantages of holding the top position in an organization come from being held personally responsible for everything the organization does. If there is a great deal of success, the officer generally receives the credit for properly steering the company. If business is not profitable, the executive is usually held accountable for this shortfall.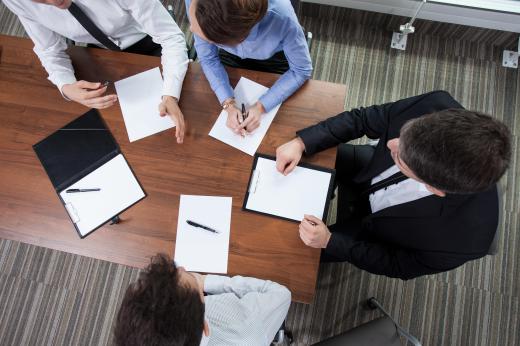 Executive officers also work closely with the managers below them and the board of directors above them. Many of the duties of a person in this position revolve around choosing the proper candidates for management positions in order to carry out company operations, policies, and goals. Many large companies have a board of directors who provide corporate oversight and in this case, the executive officer must regularly report to this group of individuals. The board usually is vested with the authority to hire the executive officer and frequently has the power to direct him or her to change policies for the good of the company.
AS FEATURED ON:
AS FEATURED ON:
By: Adam Gregor

A CEO is the highest ranking manager of a company.

By: Minerva Studio

A CEO must choose lower-level managers to run various departments in the company and often answers to a board of directors.

By: Photographee.eu

Executive officers must work closely with the company's board of directors.