What Does an Executive Pastor Do?
An executive pastor can be compared to a chief executive officer in the private business sector. He or she is charged with overseeing an entire church operation. This includes supervising staff members, finances, and other aspects of running a church. In most cases, executive pastors work in large churches. This position typically requires a college education and years of experience as a pastor.
Executive pastors handle the majority of business and day-to-day operations of the church, freeing the senior pastor to concentrate on the congregation's spiritual growth. Press relations, newsletters, and building maintenance needs fall under the executive pastor's umbrella of responsibilities. In addition to daily operational needs, executive pastors are called on to give the church sermon when the senior pastor is unavailable.
The church vision is always at the forefront of policy development. Executive pastors are charged with guiding committees and staff members to maintain the vision in all hiring and program development decisions. They offer counseling to decision makers that want to be sure the church mission is being followed.
An executive pastor also oversees recruiting and coaching volunteers to perform outreach activities in the community. Churches that support evangelizing turn to the executive pastor for guidance in approaching the community. Regular meetings with the executive pastor to report progress are not uncommon.
Financial responsibilities typically involve an executive pastor. He or she meets with the church treasurer to discuss the church's financial standing. In addition, when there is a shortfall of revenue or an increase in expenditures, the pastor works with staff members to develop a correction plan, such as a tithing challenge for the congregation or cutting expenses.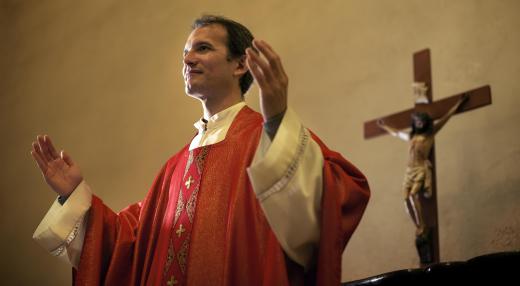 Another task charged to executive pastors is church compliance with the conference or church's bylaws. The pastor is expected to know what the bylaws are and keep up with any changes that occur. Conference attendance and conferring with the home office to maintain compliance are also up to the pastor.
Most executive pastors have spent several years as spiritual pastors before moving into the position. Usually, the exact process of becoming an executive pastor depends on the rules and bylaws of a particular faith. Executive pastors can be found throughout the world and in many different faiths. The executive pastor is typically supervised by the senior pastor or staff parish committee.
AS FEATURED ON:
AS FEATURED ON:
By: Lisa F. Young

An executive pastor is effectively the head of a church.

By: memo

Executive pastors lead their congregations in prayer.

By: diego cervo

Executive pastors may be called upon to give church sermons when a senior pastor is unavailable.

By: MaxRiesgo

Executive pastors may offer spiritual counseling for couples.

By: beeboys

Executive pastors may use faith-based techniques to counsel someone struggling with an addiction.