What does an Instrumentation Engineer do?
An instrumentation engineer specializes in designing and utilizing new devices used to control electronic and mechanical systems. Professionals work in many different industries, including medical technology firms, automotive and aerospace engineering companies, consumer electronics manufacturers, and chemical plants. They usually work in teams with technicians and other engineers to develop efficient, user-friendly technology. In addition, an instrumentation engineer is often involved with building and testing prototypes and putting together technical manuals.
Instrumentation engineers are responsible for ensuring that electronic and mechanical equipment is efficient, easy to use, and safe. They spend hours researching current technologies and coming up with ways to improve upon them. For example, a team of chemical plant instrumentation engineers may be asked to renovate an existing system of controls. The team would first carefully study the drawbacks of the system, such as old analog gauges that are difficult to read. They would then draw schematics for replacement gauges that have digital displays and are easily programmable.
Once an instrumentation engineer has a concept in mind and basic schematics drawn, he or she can transfer the idea to a computer simulator to work out the details. Software programs help the engineer perfect physical dimensions and the inner workings of electrical circuits. He or she then supervises technicians as they build and test prototypes. When a design proves successful in physical tests, the engineer can put together a formal technical document and submit it to a company manager for approval.
Instrumentation engineers also oversee the implementation of new control system or measuring devices. They make sure parts are installed correctly and perform test runs before actual operations can begin. An engineer may also be asked to provide hands-on training for employees to help them learn how to use a device correctly. Finally, a professional reviews the efficiency of his or her devices periodically to make sure they have not become outdated or worn.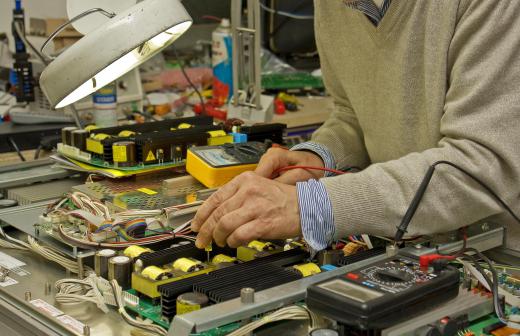 A person who wants to become an instrumentation engineer usually needs to obtain at least a bachelor's degree. Few schools offer four-year programs that are focused directly on instrumentation, so most students decide to major in electronic or mechanical engineering. After earning a degree, a person can take an entry-level licensing exam and begin applying for internships or junior engineering positions. It usually takes two to five years of practical experience and success on another licensing test before a person can become a senior instrumentation engineer.
AS FEATURED ON:
AS FEATURED ON:
By: Marzky Ragsac Jr.

Instrumentation engineers have expert knowledge of mechanical and electrical engineering, computer drafting programs, and physical construction techniques.

By: WavebreakMediaMicro

An instrumentation engineer may oversee the implementation of his designs in the field.

By: Sergio Di Giovanni

Some instrumentation engineers design and build complex control systems for industrial machinery, robotics, and consumer products.

By: uwimages

An instrumentation engineer must understand the operational processes that take place in his facility.

By: auremar

A person interested in becoming an instrumental engineer usually needs to obtain at least a bachelor's degree.

By: Gennadiy Poznyakov

An aspiring control and instrumentation engineer should excel in mathematics classes in high school.