More accurately known as a talent agent, the casting agent is an entertainment industry professional who seeks to identify potential candidates for work on stage, in television, or in the movies. The term "casting agent" is not used in the entertainment industry generally; a talent agent represents performers, while a casting director helps cast performers in a project. The agent may function as an independent agent or work for a talent agency. These agents may also function as model agents, assisting various clients in locating and hiring models for clothing lines or for advertising campaigns.
The casting agent often works closely with casting directors. It is these directors that initiate what is known as a casting call. A casting call is simply an announcement of a new production vehicle that is about to audition entertainers for roles within the production. When an agent receives notification of this call for auditions, he or she will begin to search for performers who are right for the new production and attempt to secure an audition for those performers.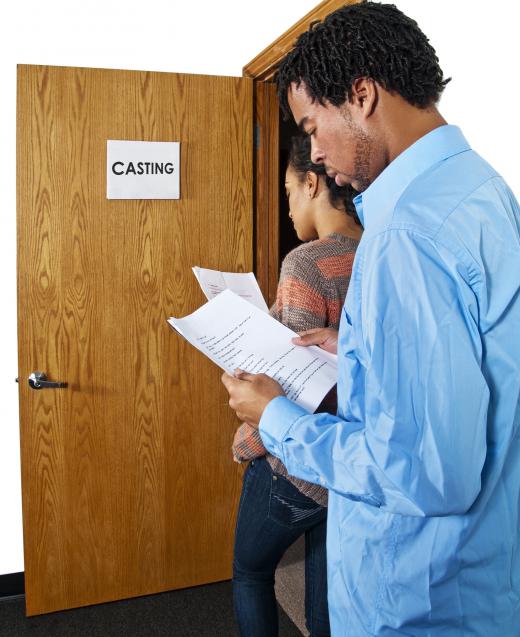 It is important to note that a casting agent is different from a talent scout. Talent scouts normally work for production companies. By contrast, the agent is more likely to be connected with talent agencies that represent a wide range of performing clients.
While the casting agent does identify potential talent for a production and arranges for the performers to attend the casting call, the agent very rarely accompanies performers to the casting calls themselves. Instead, the performer goes through an entry-level audition with a casting director, who in turn calls back performers who show real promise for a second audition with the production director and producer. Thus, the casting agent helps to clear the way for the performer, but it is the responsibility of the performer to secure the interest and support of the team producing the entertainment feature and be hired for the project.
While the roles of various entertainment agents used to be well-defined, it is not unusual for agents who focus on getting casting calls for clients and general talent agents who may choose to represent actors, singers and other performers to be referred to as simply agents. In all situations, the agent normally receives a commission on any performing assignments that are secured as a result of the agent's efforts to bring the performer and the production company together.
AS FEATURED ON:
AS FEATURED ON:
By: Innovated Captures

Casting directors usually find actors who fit the director's artistic vision through casting agents.

By: seandeburca

A casting agent, more commonly known as a talent agent, helps performers find roles in movies and other entertainment.

By: oneinchpunch

A casting agent is in charge of spotting talented actors and placing them in the perfect roles.

By: seandeburca

Agents send the talent they represent to casting calls.