What is a Certified Dental Technician?
A certified dental technician is a person who has received certification as a dental technician. An individual in this field works in a laboratory and creates a range of dental devices, such as bridges and crowns, dentists use in their practices. Typically, a person who wants to become a certified dental technician enrolls in an educational program, which may end with the granting of a certificate or an undergraduate degree. He may then go on to meet the requirements of the organization through which he is seeking certification, which may include taking exams. Many governments do not set requirements for individuals who want to work as dental technicians; dental technicians may seek certification voluntarily.
Often, dentists use a range of dental prosthetics in their practices. Certified dental technicians use materials such as ceramics and metal to make them. For example, a person in this line of work may create bridges, crowns, dental implants, and orthodontic equipment. He may perform this job without seeking certification first, but obtaining certification may help a technician to enjoy more job opportunities.
When a person becomes a certified dental technician, he demonstrates his knowledge and skill in performing the tasks required of a dental technician. Typically, a person must meet certain requirements, which may vary from organization to organization, to be eligible to take a certification exam. In most cases, however, an aspiring certified dental technician has to meet educational or experience requirements. In fact, some organizations may require certification candidates to have both training and experience. For example, an individual may need to graduate from a dental technology program and gain a couple of years of practical experience to seek certification from certain organizations.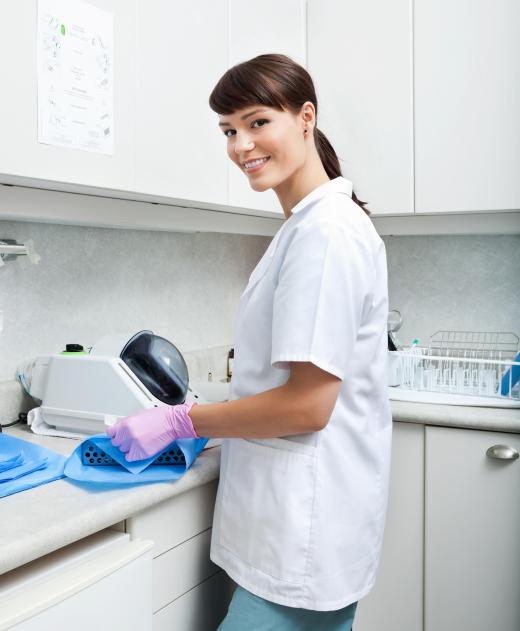 The number of exams a person has to pass to become a certified dental technician may depend on the requirements of the certifying organization, but many require candidates to pass three or more exams. Often, one is a written comprehensive exam and another is a written exam in a specialty, such as dentures, crowns and bridges, or orthodontics. A third is often a practical exam.
In many jurisdictions, there are no government-imposed requirements for a dental technician to seek certification. In fact, many governments do not set training criteria for dental technicians at all. Instead, it is usually an employer's responsibility to make requirements for dental technicians. Some employers prefer technicians who have earned certification, as earning a credential demonstrates that the applicant has received adequate training or education in the field. As such, some employers may believe that a certified technician is likely to be more knowledgeable and skilled in the field.
AS FEATURED ON:
AS FEATURED ON:
By: Alexandr Mitiuc

A certified dental tech may create dental implants.

By: Tyler Olson

A dental lab technician works with a variety of substances and equipment.