What Is a College Admissions Counselor?
A college admissions counselor is the person in charge of advising and screening prospective and incoming students. He is instrumental in coordinating programs designed to encourage enrollment through presenting the college's curriculum, degree programs and post-graduate offerings in a positive light. In many cases, he is the first point of contact for potential enrollees, so his positive depiction of the institution is crucial.
A person in this position represents the college both on and off campus. He meets with everyone involved in the process of selecting a college. This includes high school counselors, students and parents. He may actively recruit for admissions, but normally, interested parties in the process of choosing a college approach him at college open houses and higher education fairs and expositions. This regularly involves local and interstate travel.
From his campus office, a college admissions counselor develops and implements recruitment outreach programs in conjunction with internal and external agencies, including alumni associations. Their common goal is to reach a socially, economically and ethnically diverse group of potential students. The programs offered are required to have mass appeal concurrent with addressing specific wants and needs for students with vastly different backgrounds.
Besides recruiting, a college admissions counselor advises interested high school students on educational options. This process often involves aptitude testing and assessing personality traits and interests. Further screening entails reviewing applications, scoring entrance essays and evaluating letters of reference from teachers, mentors and other counselors.
Other student concerns regularly addressed by a college admission counselor include housing options, socialization concerns and challenges, financial aid and work-study programs. Outside of speaking with your counselor about financial concerns, you can apply to easy scholarships to help offset the costs of education.
These concerns may be discussed in person on campus, during college fairs or at high school recruitment events. E-mail communications are gaining in popularity and many colleges have Web sites that answer frequently asked questions and provide portals whereby students can submit questions and receive personalized responses.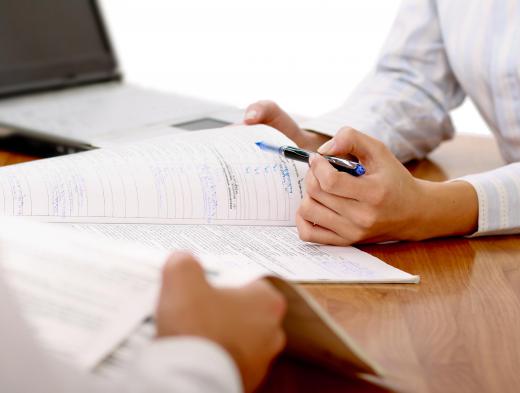 A college admissions counselor is expected to complete administrative tasks in addition to his recruitment responsibilities. These may include maintaining student contact records and writing reports on recruitment successes, failures and challenges. He is also required to correspond with high school teachers and counselors regarding the status of applicants. Regular assessments of recruitment programs are required to revise or improve them for the next enrollment campaign.
A bachelor's degree in counseling or education is generally required for this job. At least one year of counseling or recruitment experience is strongly preferred. All successful candidates will have solid organizational and communications skills, coupled with an energetic, positive spirit and outgoing personality.
AS FEATURED ON:
AS FEATURED ON:
By: micromonkey

College admissions counselors help students select colleges that are a good fit for them academically and socially.

By: Syda Productions

An admissions counselor may help students find the right courses for their academic goals.

By: Lisa F. Young

Aptitutde testing may be part of a student's process of determining which educational options are best for him or her.

By: lenets_tan

A college admissions counselor must understand the qualities and credentials that her school expects from applicants.

By: bst2012

Admissions counselors often have a background in counseling.

By: Riccardo Piccinini

A successful college admissions counselor should be able to understand the needs of potential college students.

By: ryflip

College admissions counselors deal with students from a variety of backgrounds.