What is a Crime Scene Technician?
A crime scene technician is a person who works with law enforcement agencies to investigate crimes by evaluating details left on the scene. Their primary responsibilities are to collect evidence, analyze data in lab settings, and present findings in both written and oral reports. Many technicians are employed directly by police departments although they can also work independently, contracting out their services on a freelance basis.
Types of Work and Job Environments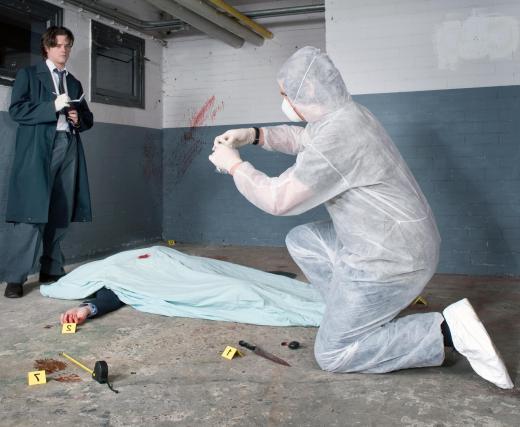 Examining crime scenes is usually an important part of figuring out exactly what happened in the moments leading up to a crime, particularly in cases where the facts are somewhat fuzzy or there were no witnesses on hand. Crime scene technicians are typically in high demand by police and fire departments, crime laboratories, and government agencies, to name a few. The field is generally very broad, and technicians can choose to specialize in a number of different areas.
Securing and Examining the Scene
Technicians who work directly with police and fire investigators are usually dispatched directly to crime scenes. They work alongside forensic experts to study the surrounding area, taking note of its dimensions and features as well as collecting evidence. There are often multiple technicians assigned to a case under the leadership and direct supervision of a "lead" or "chief" technician. Some will take photographs of the scene, while others will collect physical evidence like blood droplets or bullet casings. Working in this sort of environment can be unsettling, particularly when the case involves death or brutal assault.
Evidence Collection and Lab Work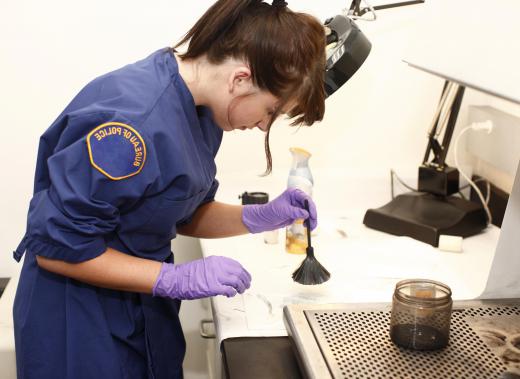 Direct fieldwork is not always required. Many crime scene technicians work only with already-collected evidence, running tests and analyzing things like hair and blood samples in laboratories. Every crime laboratory has very specific protocols surrounding the identification, collection, and recording of evidence. It is the crime scene technician's responsibility to follow these instructions precisely, as the methods of evidence identification are critical to determining who is responsible and must be defensible when presented in a court of law.
Reporting and Administrative Duties
The final responsibility of the crime scene technician is to write a report detailing the evidence collected, the process used, and the conclusion of any tests. This report must follow a specific format in order to ensure that all standard questions are answered and a proper, logical trail is provided. Should the case go to trial, the crime scene technician may be called to testify about the information in the report.
Required Training and Education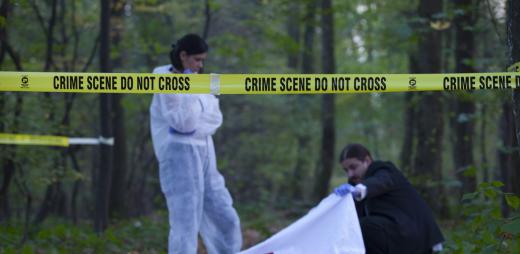 Crime scene technicians must usually hold both a high school diploma and a specialized certification or degree in forensics, criminal procedure, or crime scene investigation. Community colleges and technical schools frequently offer these sorts of certification programs, usually as two-year associate's degrees. Candidates can also complete four-year bachelor's degrees, which can sometimes qualify them for a higher pay grade — but is rarely ever required. Depending on the jurisdiction, crime scene technicians may also have to pass licensure or certification exams in order to handle evidence or view police files.
Personal Skills and Helpful Characteristics
People who enjoy working independently, are detail oriented, and take pride in their organizational skills tend to have the highest levels of satisfaction in the crime scene technician field. Excellent communication, willingness to follow instructions, and a commitment to accuracy are also very important. Maintaining a professional level of emotional detachment is necessary, too, as personal bias can negatively impact the quality of the work.
AS FEATURED ON:
AS FEATURED ON:
By: corepics

A crime scene technician evaluates evidence at the scene.

By: Luis Louro

Crime scene technicians may be responsible for taking photographs of a crime scene.

By: Peter Kim

A crime scene tech may be responsible for gathering fingerprints at a crime scene.

By: mizina

Blood splatter can be used as evidence.

By: LukaTDB

A crime scene technician will collect evidence from the scene of a crime.

By: Stephen Coburn

One role of a crime scene technician is to testify in court.