What is a Nursing Home Activity Director?
A nursing home activity director works with the elderly population in a long- or short-term care facility. A long-term nursing home provides permanent or full-time supervised care for senior citizens who don't have another option, either due to their health needs or just the requirements of being older. A short-term nursing home provides care for elderly people who have housing elsewhere, but who are recovering from surgery and don't have adequate help in their own home. Activity directors are career professionals responsible for providing elderly nursing home residents with things to do such as crafts, puzzles, exercise and games.
Formal education or certification is generally required to become a nursing home activity director today. This wasn't always the case; as more demand for the position arose as well as the competition for jobs, the educational credentials became higher. Many activity directors who have been working in the field for some time don't have degrees because the requirements were different when they were hired. Another reason that certification became desirable for people wanting to work with seniors is to help set industry standards to better prevent elder abuse. Elder abuse is the mistreatment of old people in any way, such as through neglect in caring for them or in violent acts toward them.
Aspiring nursing home activity directors are taught in certification programs such as those regulated through The National Certification Council for Activity Professionals in the United States, that first and foremost, elderly people, no matter their condition, must always be treated respectfully. Besides the quality of respect, the personal characteristics expected in a nursing home activity director are leadership, patience and the ability to generate as well as implement good ideas. Activity directors must always have workable ideas ready to use.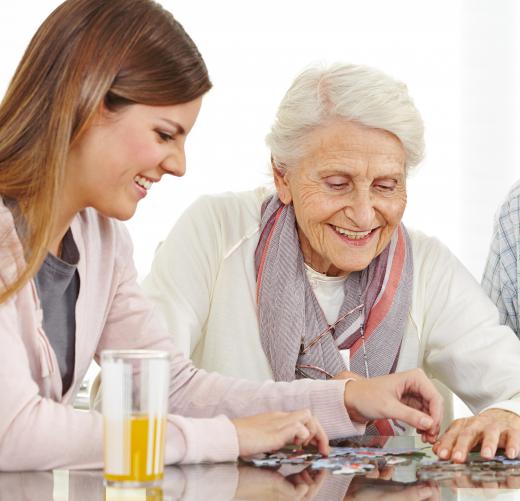 Nursing home resident preferences as well as any medical limitations must be taken into consideration when a nursing home activity director plans his or her ideas. This isn't usually an easy task, since different people often have different activity preferences. Just as all children don't like playing the same games or doing the same crafts, seniors may not either. The activity director typically handles this by including something for everyone such as large print puzzles and games. He or she supplies books, magazines and puzzles for people to do on their own as well as games and movie nights for seniors to enjoy as a group.
AS FEATURED ON:
AS FEATURED ON:
By: Anna Lurye

A nursing home activity director works with the elderly.

By: Robert Kneschke

A nursing home activity director must be able to offer games and other activities to patients.

By: Photoman

Some nursing home activity directories encourage residents to take on artistic activities such as painting.

By: Lisa F. Young

A nursing home director may schedule times for residents to walk outside and get some fresh air.

By: quka

Needlepoint projects are one idea an activity director might organize.

By: Lisa F. Young

A nursing home activity director may schedule a shopping trip for residents.

By: Sandor Kacso

Nursing home directors may match up volunteers who can provide support for seniors.

By: Lisa F. Young

Nursing home activity directors may organize fitness classes or other exercise programs.