What is a Private Investigator?
Though glamorized by television, a career as a private investigator is often a stressful, dangerous and irregular one. A private investigator or private detective provides surveillance, investigative, research and interviewing services to the public, attorneys or businesses. Specialties in the field of private investigation include legal, corporate and financial investigators, and store and hotel detectives.
The primary duties of a private investigator are to verify facts and gather information. Many who choose the private investigator field have a background in law enforcement, insurance, the military or government investigation or intelligence. No formal education is required to be a private investigator, although most states require investigators to be licensed. Some states are initiating training requirements that require specific education, a criminal background check and the successful completion of a written exam. The education portion requires courses in political science or criminal law and justice.
A private investigator must often face confrontation, so he or she must be assertive and a quick thinker. Often, the duties of a private investigator require interrogation and interviewing; therefore, good communication skills are necessary. Some investigators perform background or pre-employment checks. Others investigate computer crimes, including piracy, e-mail harassment and identity theft.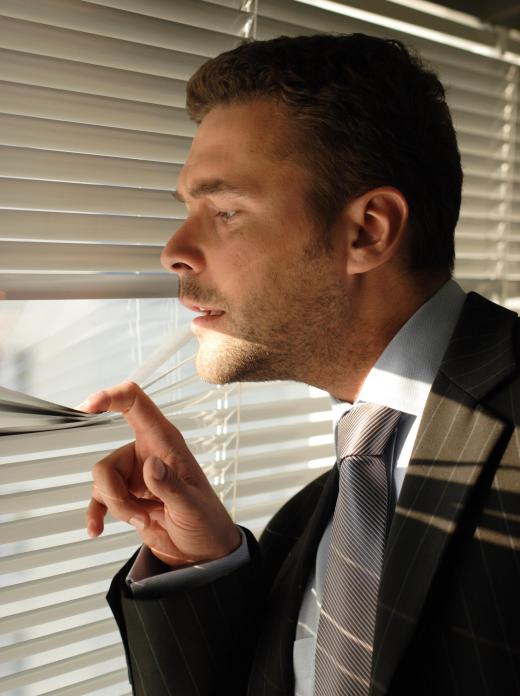 The private investigator performs a great deal of work at irregular hours, such as early mornings, nights, weekends and holidays. However, work such as computer searches and phone calls may be performed at an office during normal working hours. Investigators perform most work, especially surveillance and interviewing, alone.
Some private investigators are licensed to carry a firearm, although one is not necessary in most cases. Many investigators are retired from law enforcement or the military or government. Although certification is not required, the National Association of Legal Investigators (NALI) awards a Certified Legal Investigator designation to those who have the required experience, education and continuing-training requirements and have passed the necessary written and oral exams. This certification is for those licensed investigators who specialize in negligence or criminal defense investigations.
Legal investigators often work for law firms, where they assist in locating witnesses, serving legal documents and gathering evidence. A corporate private investigator performs internal or external investigations, some related to drug use or theft. A financial investigator may also be a certified public accountant and might assist in investigative services related to large financial dealings. Store private investigators protect a business from theft, both externally and internally, and hotel detectives do the same for their employers and may also serve as a safety or protection officer.
AS FEATURED ON:
AS FEATURED ON:
By: donserhio

A private investigator may be responsible for interrogating witnesses.

By: endostock

A private investigator may be responsible for tracking the movements of a particular person.

By: robert lerich

Private detectives may work for insurance companies to document insurance fraud or investigate whether a spouse is having an affair.