What is an Archaeologist?
An archaeologist is a person who discovers, collects and analyzes the material remains of previous societies and cultures. He or she studies artifacts, such as tools, weapons and ancient domiciles to learn about the way people lived in the past. An archaeologist studies modern and historical texts, employs specific field techniques, uses advanced laboratory equipment and writes detailed reports. In addition, many archaeologists choose to teach at universities or become museum curators in order to share archaeological principles with a wide audience.
Excavating and Examining
Archaeologists find and excavate historical sites, taking extensive measures to carefully collect and transport artifacts to a laboratory. While excavating sites, archaeologists use tools such as shovels, trowels, brushes and sifters. In a lab, an archaeologist uses specialized equipment, such as microscopes and X-ray machines, to examine the materials that were collected. He or she might spend several thousand hours analyzing pieces of artifacts to determine when, how and why they were used.
Writing Reports
After the field work and lab work is completed, archaeologists translate their data and theories into carefully written reports. They then submit their papers to scientific publications for review, to determine whether they are worthy of publication in a respected scientific journal or book. Patience and a keen eye for detail are important characteristics of an archaeologist, because he or she might be required to spend years collecting specimens and organizing data in order to compose a single report.
Types of Employment
Many archaeologists work for government agencies. An archaeologist who works for a government typically focuses on protecting and promoting significant archaeological sites. He or she engages in cultural resources management, which involves supervising construction and land development projects to ensure that archaeological sites are not harmed.
Archaeologists who work in the private sector are commonly employed by engineering firms, research centers, private laboratories or museums. These professionals typically engage in extensive field work and laboratory work as well as cultural resources management projects. Museum archaeologists might act as curators or even tour guides, explaining the significance of certain artifacts to the general public.
Education Requirements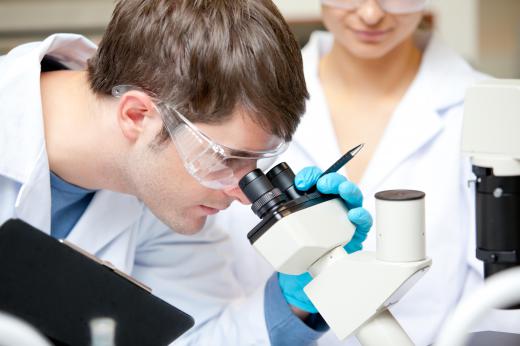 To become an archaeologist, a person typically must obtain a master's degree or doctorate in archaeology from an accredited university. Archaeology students usually take courses in history, geology, geography and anthropology while they are in undergraduate school, and they focus on ancient history and specific archeology courses while they are in graduate school. A master's degree typically is sufficient to find work with the government or in the private sector, and a doctorate usually is necessary to join a university faculty, work as a museum curator or supervise large archaeological field projects.
AS FEATURED ON:
AS FEATURED ON:
By: Valeriy Kirsanov

Archaeologists draw up site plans that illustrate how items were originally arranged at excavated areas.

By: kmit

Archaeologist must carefully sift through excavation sites to find small artifacts.

By: Dario Lo Presti

Artifacts an archaeologist discovers during an excavation may be taken back to a laboratory for further study.

By: WavebreakMediaMicro

Archaeologist may use specialized equipment, such as microscopes.

By: Gail Johnson

Information gained from the study of past societies, such as the prehistoric culture that built Great Britain's Stonehenge, can be used to better understand sustainability issues.

By: Bryan Busovicki

Archaeologists who study mesoamerican cultures still debate why the Inca built Machu Picchu in the 15th Century.

By: JackF

An archaelogist might work in a museum.