What is an Environmental Geologist?
An environmental geologist is a geologist who studies the interaction between humans and the natural environment, and the impact of various human activities on the environment. Environmental geologists work to keep the environment safe and healthy while also making it accessible and useful for people. They can work for state agencies, private consulting firms, oil companies, real estate developers, and many other organizations, performing a wide range of tasks.
At a minimum, an environmental geologist holds a bachelor's degree in geology. Many working professionals have master's or doctoral degrees in the subject, especially if they work as teachers or instructors. Environmental geologists spend time in the field, studying geological sites, taking samples, and talking with people involved in a project, and they also work in an office or lab, performing tests, writing up results, and making policy recommendations which will be considered by public officials.
These geology professionals can do things like preparing environmental impact statements for proposed developments, working with resource extraction companies to use natural resources safely, and working with government agencies to formulate water and land use policies. Environmental geologists are also involved in environmental remediation, in which natural or man-made contaminants are cleaned to make an area safe to use, and they also perform routine inspections of sites which may cause pollution, such as landfills. Work as an environmental geologist can be very diverse and interesting, especially in areas with highly varied terrain and human needs.
Environmental geologists are also interested in natural hazards like earthquakes, mudslides, flooding, and volcanoes. This information may be relevant to existing communities struggling with management of natural hazards, or to developers who are considering new construction and planned communities. In many regions, an environmental geologist must examine a site before development can proceed to determine that it is safe to build on and to make recommendations for building sites which will be safe, and environmental geologists may be part of the consulting crew when plans to make dams, roadways, and other public works projects are underway.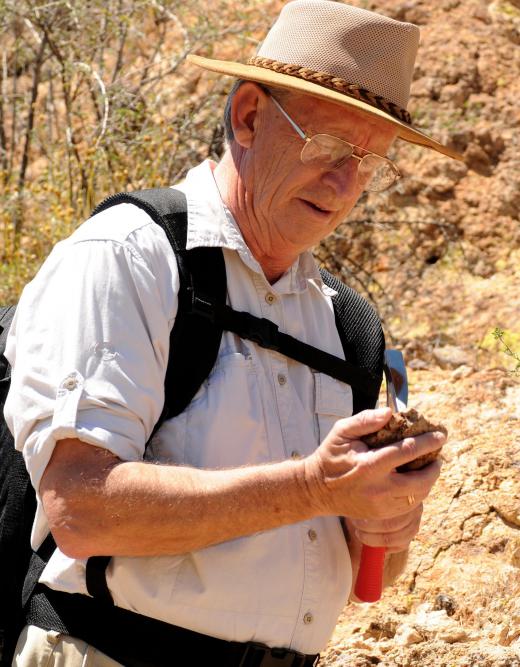 Like many professionals in the environmental field, environmental geologists want to make it possible for humans to utilize the Earth in a way which is safe, sustainable, and practical. An environmental geologist may act as an advocate to protect vulnerable environments and may also make policy proposals for developments and resource exploitation which will be environmentally sound. Environmental geologists can also become involved in litigation for everything from suing companies which build on unsound land to determining who is responsible for industrial pollution.
AS FEATURED ON:
AS FEATURED ON:
By: ID1974

Geologists may study the formation of volcanoes.

By: goodluz

An environmental geologist studies the interaction between humans and the natural environment.

By: Paul Moore

Environmental geologists spend time in the field, taking samples and studying geological sites.

By: annavee

An environmental geologist can determine if flooding is likely to threaten existing or planned communities.

By: Leonid Ikan

Environmental geologists may investigate water and ground pollution.