What is Crime Scene Photography?
Crime scene photography is a branch of the field of photography which is focused on taking accurate photographs of crime scenes and criminal evidence, so that these photographs can be used in the investigation of crimes and in the prosecution of criminal activity. Some police departments and law enforcement agencies retain professional crime scene photographers who have received special training in forensics and photography, while others rely on officers who can take photographs in addition to investigating.
People have been taking photographs of crime scenes since the camera was invented, realizing that photography could be a powerful tool in criminal investigation. Modern crime scene photography is designed to create an accurate, detailed, and truthful image of the scene, and to meticulously document both the scene and the subsequent criminal investigation.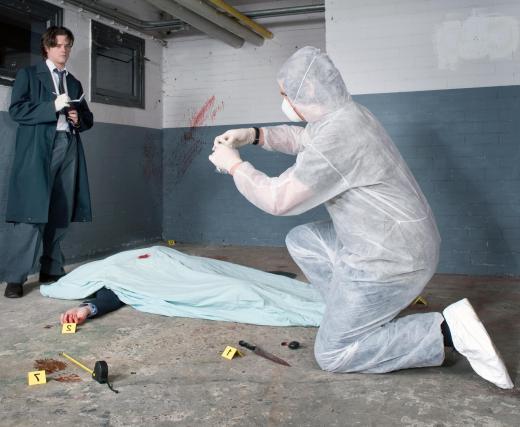 Crime scene photographers are the first ones allowed into a crime scene. They start by taking overviews of the scene, providing a context, and they slowly move in to take midrange shots and closeups of specific areas of interest. They must frame images carefully to retain relevance and scale, and they may include evidence markers, rulers, and other tools to provide context and references. Crime scene photographers try to work without disturbing the scene so that detectives can see an untainted scene, and they also document the investigation of the crime scene, including the tagging and removal of evidence.
Officers can use crime scene photography in crime scene reconstruction and the investigation of a crime. The photographs may also be used in interrogations, and in the courtroom, to provide the judge and jury with evidence of what the scene looked like. For example, in a stabbing, the photographs could show the knife as it was found at the scene, along with documenting the path of the knife through evidence.
Digital cameras have vastly expanded the field of crime scene photography, as they allow photographers to shoot indiscriminately, capturing every possible relevant detail at the scene, including shots of the crowd around the crime scene which may be useful later. Photographers in this field tend to err on the side of excess, believing that it is better to sift through hundreds or thousands of pictures than to miss something by being conservative with the camera.
Training in crime scene photography is offered by several law enforcement organizations, and some people also learn on the job. In addition to requiring photographic skills, the field also requires forensic skills, such as knowledge about how to retain the integrity of a scene, how to handle evidence, and how to take photographs which will be admissible in court as evidence.
Although this branch of the field of photography is practical in nature, some crime scene photographs have become works of art in their own rights, in addition to being useful evidence. For example, snapshots of crowds present at lynchings have been displayed in museums and art galleries.
AS FEATURED ON:
AS FEATURED ON:
By: corepics

Crime scene photos are often used as demonstrative evidence.

By: Luis Louro

Law enforcement agencies hire crime scene photographers to take pictures of crime scenes.

By: Brian Jackson

The first people allowed into a crime scene are the photographers who document the whole area.